Missing insurance documents delay asbestos compensation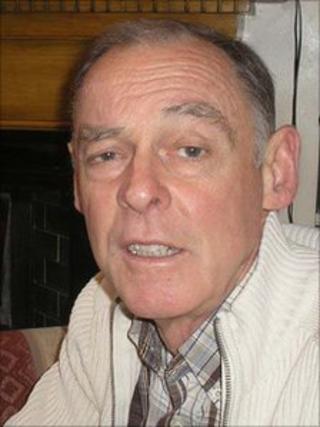 A year ago Bob Charman was carrying heavy wooden doors around a building site, but since then there have been times when he has struggled to tie his shoelaces without getting breathless.
Last year he was diagnosed with mesothelioma, a lung cancer almost always linked to asbestos exposure.
Sitting in the living room of his terraced home in Great Yarmouth just before Christmas, I listened to him playing a carol on his guitar - without a trace of irony or self pity he poignantly strummed along to In the Bleak Midwinter.
Bob, 64, knew that he might not see many more Christmases. The prognosis for mesothelioma is not great.
"It is pretty grim when you read the literature," he said.
"I try to be upbeat and make the most of everything I can while I'm feeling well. I've had a couple of downturns but they've helped me a lot with the chemotherapy and the drugs."
In Bob's case there seems little doubt that working with asbestos early in his career is the cause of his illness.
"We would saw it and file it and the dust would fly around... you'd put a hanky round your face like a bandit. We didn't have masks and respirators."
But despite this demonstrable link, Bob cannot get access to the compensation to which he is clearly entitled and which would provide a measure of comfort in his remaining years.
Along with hundreds - possibly thousands - of other victims, he cannot identify which insurance company covered his employer at the time he was exposed to asbestos.
Industrial diseases like mesothelioma and asbestosis can take years - even decades - to develop. In that time companies can move locations, change directors or go bust. Records are lost, misplaced or simply go missing.
Government compensation is available in such cases but insurance claims would pay far more.
Fund of last resort
The previous government promised that it would force insurers to set up a fund of last resort - a pot of money which would be used to meet these untraceable claims. But almost a year later there has been no such firm commitment from the coalition, which says it continues to consult about a fund.
The insurance industry is strongly opposed, arguing that it would lead to an increase in premiums.
The industry also argues it would be unfair to penalise today's law-abiding employers for firms that may no longer exist or did not take out insurance at the time.
And there are fears that some firms would not bother to take out insurance in the first place if they knew a fund of last resort would always be there to pick up the tab.
Instead for the last 10 years it has operated a voluntary code of practice which will be replaced in April by a new Tracing Office designed to help claimants.
Success rate
But latest figures obtained by the BBC show that in 2009, only 45% of the 15,000 inquires were successful - the same rate as the previous year.
Of the 1,025 inquiries received from mesothelioma sufferers alone, many of them with only months to live, only 487 managed to trace their insurers and thus potentially access hundreds of thousands of pounds in compensation.
In 1999 it became compulsory for employers to retain records for 60 years so in theory all inquiries made since then should be successful.
But the figures also reveal that the success rate since 1999 actually fell by 4% to just under 50%.
The figures are contained in the draft annual review of the current Employers Code of Practice (ELCOP) due to be published shortly.
Critics say there is little evidence that the new beefed-up tracing office will be any more successful in helping people trace insurance polices - a charge the industry rejects.
Victims groups and organisations like the Association of Personal Injury Lawyers argue that a fund should be set up along similar lines to the one operated by motor insurers.
Whatever the outcome, it is likely to come too late for Bob Charman and other victims and their relatives.
George Winterton from Leicestershire died from mesothelioma last year without tracking down his former employers' insurer.
Talking to the BBC just months before he died he said he was desperate to make sure his wife Pat could have a comfortable life when he had gone.
"We did get some government compensation with which we paid off the mortgage and got a decent car," said Mrs Winterton.
"But for all the suffering he went through in that last period, it wasn't enough."