MoD will have to make more cuts, warns Rusi think-tank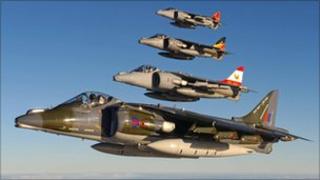 The Ministry of Defence will have to make further savings of £1bn-£2bn a year if it is to avoid overspending by 2015, a defence think-tank has warned.
The government's strategic defence and security review in October outlined cuts of £4.7bn over four years.
But the Royal United Services Institute said this would not be enough to balance the MoD's budget.
Armed Forces Minister Nick Harvey said the review had significantly reduced underfunding but more work was needed.
'Nightmare' budget
Research by professors Michael Clarke and Malcolm Chalmers at the Royal United Services Institute (Rusi) suggested rising costs would outstrip the MoD's planned savings.
They described the MoD's current planning round for its 2011 budget, due to be finalised by the end of March, as a "nightmare".
Mr Harvey told an audience at Rusi that the MoD was facing up to "very tough circumstances".
He blamed what he called a "massive unfunded liability" left by the previous government.
Mr Harvey admitted the MoD needed to continue to "develop and refine" plans to live within its means - and that it was not at that stage yet.
RAF Harrier jump jets, the Royal Navy's flagship - aircraft carrier HMS Ark Royal - and planned Nimrod spy planes will all be axed as a result of the defence review.
Job losses
Some 42,000 defence jobs will be cut by 2015 - including 25,000 civilian staff at the MoD, 7,000 in the Army and 5,000 each at the Navy and RAF.
Axing the Harriers and Ark Royal means no planes will be able to fly from British aircraft carriers until 2019. Two new aircraft carriers will be built although one of them will not enter service.
Shadow defence secretary Jim Murphy said: "The rushed defence review left huge gaps in our military capability which are set to get bigger.
"We have already lost the Harrier and Nimrod and seen the military covenant undermined. The whole armed forces community will now want to urgently know if there are to be further cuts and where they will fall.
"The government pledged to protect the front line, but this looks in doubt. Their credibility on defence is on the line."