Keeping an uninsured car soon to be illegal in Britain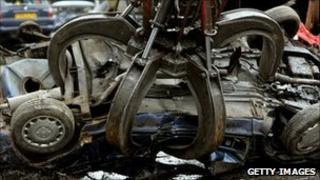 New rules will make it illegal to keep an uninsured car in Britain whether it is being driven or not.
Owners who have not declared their uninsured cars and vans off the road could have them seized and crushed.
Transport Minister Mike Penning said uninsured cars were a "real road safety issue". The measure, introduced under Labour, will be made law "shortly".
But the AA said it would not hit the "motoring underclass" who did not register their car.
The new rules will apply in England, Scotland and Wales but not Northern Ireland.
The Department for Transport (DfT) said it did not have a definite date for when an announcement would be made.
But a spokesman stressed owners who had a Statutory Off Road Notification, enabling them to keep their uninsured car, would not be affected.
'Huge burden'
At present it is illegal to drive a car while uninsured. The penalty for doing so is a maximum fine of £5,000 and six to eight penalty points. The police have the power to seize, and in some cases, destroy the vehicle that is being driven uninsured.
Under the new system, it will be an offence to keep an uninsured car.
It will be enforced by comparing the database of the Driver and Vehicle Licensing Agency with that held by the Motor Insurers' Bureau, which was set up to compensate victims of uninsured drivers.
Owners of uninsured vehicles will then be contacted by letter to warn them they face a £100 fine if the car or van is not insured by a certain date. If the vehicle remains uninsured, regardless of whether a fine has been paid or not, it could then be seized and crushed.
In 2009, it was estimated that about two million motorists in Great Britain drive uninsured.
Uninsured and untraced drivers kill 160 people and injure 23,000 every year, according to the DfT.
The department also says that uninsured driving adds about £30 a year to every motorist's insurance premium, and Transport Minister Mike Penning said something needed to be done to protect law-abiding drivers.
"If anybody has a vehicle they're not going to use on the road, they can declare that off the road and that will be absolutely fine," he said.
"But we have over a million vehicles driving around which are not insured which is a huge burden on other insurers and actually a real road safety issue."
Edmund King from motoring organisation, the AA, said the new system would catch out the "chancers", the people who gamble with their insurance and leave it a few months before renewing it.
"The problem is those people, the motoring underclass, who haven't got the car registered in their name, have no insurance, no MoT," he said.
"It won't hit those people so the police will have to continue with automatic number plate recognition and physically pull those people over on the road and take action."