UK newspapers link 'Wild West' politics to US shootings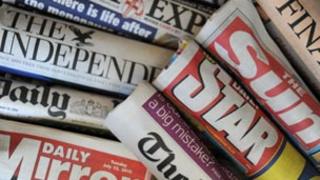 The shootings in Arizona continue to dominate the UK news agenda, with many papers speculating about whether the nature of the US political system was partly to blame.
The Times pinpoints the "high levels of vitriol" between politicians and says even arch rivals "need to speak in a language that is more generous".
The Daily Express says the attack on Congresswoman Gabrielle Giffords was a "horrible throwback to the Wild West", with differences resolved at gunpoint.
The Independent calls Ms Giffords "the victim of a debased political culture".
'Blackest days'
The face of nine-year-old Christina-Taylor Green, the gunman's youngest victim, appears on several front pages.
She was born on 11 September 2001, "another of America's blackest days", as the Daily Telegraph puts it.
On Saturday, her "symbolic life became a symbolic death, epitomising a brutally disunited America", the Guardian says.
"She was shot for no other reason than that she was, at the age of nine, precociously interested in politics," it adds.
'Hard truths'
Columnist Yasmin Alibhai Brown defends former minister Jack Straw after he suggested that some men of Pakistani origin see white girls as easy targets for sexual abuse.
Writing in the Independent, she says "fear of racism should no longer be the veil covering up hard truths".
The Daily Mail says the attacks on Mr Straw were "misguided and dangerous" and the possibility of a racial element to sex abuse must be investigated.
"Silence serves only the abuser," its editorial adds.
'Four for two'
The tabloids are excited at the prospect of a new baby Beckham after David and Victoria announced they were expecting a fourth child.
The Daily Mirror goes with a football metaphor, choosing the headline, "Four for two".
The Daily Mail, meanwhile, asks, "Will Posh get a baby girl at last?", after years in a house "dominated by boys".
And there are similar sentiments in the Sun. Its somewhat tortuous headline? "Girldenballs".