Chinese businessman bids £5m for UK's HMS Invincible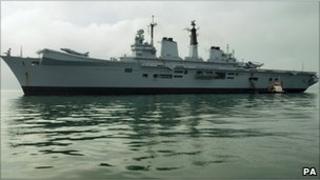 A UK-based Chinese businessman has bid £5m for the aircraft carrier HMS Invincible, which is being auctioned.
Lam Kin-bong - who owns restaurants in the West Midlands - has said he wants to turn the former warship into an international school in China.
He said if he was not allowed to tow it to China he would instead try to berth the stripped-out carrier in Liverpool.
Several bids have been received since Invincible was put up for sale on a government internet auction website.
The vessel, which saw action in the Falklands War, Gulf and Balkans and was based in Portsmouth, was decommissioned in 2005. It was put up for sale on the edisposals website and was expected to fetch about £2m.
The UK Ministry of Defence (MoD) said Invincible's engines and many other parts had been salvaged and it was expected to be sold for scrap. The carrier has been stripped of anything that might be of military use and the blueprints of the ship will not be sold with it.
'Purely commercial'
Mr Lam, who began as a chef and now owns the Wing Wah chain of Chinese restaurants, is also a lawmaker in the city of Zhuhai, in southern China.
He told the South China Morning Post that the bid - entered via his Zhuhai-based company Sunway Yacht Limited - was purely commercial.
If successful in buying the carrier he told reporters he wanted to tow the vessel to Zhuhai and berth it at a marina he is building in the city. He said it would cost £11m to buy the Invincible, tow and convert it.
"My intentions are purely commercial and have nothing to do with the military," he told the English-language newspaper.
If the vessel could not be taken to China his second preference would be to base it in Liverpool and turn it into a school "to boost the understanding of China and the Chinese in Britain".
Mr Lam said he had spoken to the Chinese Embassy in London about the bid and received a supportive response.
The restauranteur moved to London nearly 20 years ago, then to Birmingham where he helped set up the Wing Wah chain of restaurants, which he runs with his wife.
Earlier this week the MoD confirmed a "number of bids" had been received for the carrier and a preferred bidder would be announced once terms had been agreed.
Invincible was laid down at Vickers' shipyard in Barrow in 1973 and launched by the Queen in 1977.
The ship served in the 1982 Falklands War, deploying Harrier fighter aircraft against Argentine forces.
It is one of the navy's three Invincible class anti-submarine warfare carriers, along with HMS Ark Royal and HMS Illustrious.
Ark Royal is to be decommissioned this month and HMS Illustrious in 2014.
The ships will be replaced by two new carriers, HMS Queen Elizabeth and HMS Prince of Wales, which are expected to enter service by the end of the decade.