UK terrorism security threat level raised at airports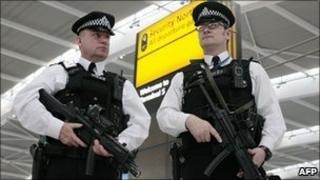 The terrorist threat level specific to major UK transport hubs has been raised from substantial to severe.
The move includes airports and London railway terminals, although there is no suggestion of any intelligence of an imminent attack.
The BBC has seen a letter to aviation chiefs saying there are indications al-Qaeda "may be considering an attack".
The threat to the UK overall remains where it has been for the past year at the second-highest level, "severe".
Security officials say the upgraded threat level for major UK transport hubs is precautionary.
'Credible' reports
The overall national threat level at severe means a terrorist attack is highly likely.
Officials say if there was any intelligence of an imminent threat or a plot under way the threat level would be raised to its highest level, "critical".
Beneath this are a series of threat levels for specific sectors of the national infrastructure which are not normally made public.
The BBC has seen a copy of a letter sent from the Department for Transport to aviation officials, explaining the increase in the threat level to the industry.
The letter says there are indications al-Qaeda "may be considering an attack against a UK airport or aviation sector target" and it describes the reports as "credible".
It goes on to say the "economic, political and psychological significance of the UK aviation sector, coupled with the large crowds present within some of its major assets, would enable a successful attack to fulfil al-Qaeda's objectives".
It emphasises that no changes to security will be made and the planned method of attack is unclear.
There have been concerns in recent months over the possibility of Mumbai-style gun attacks in Europe and the intelligence that led to the sector-specific change is believed to cover Europe as a whole.
In practice, the move means more police are likely to be visible at airports and railway stations from Friday.
'Remain vigilant'
BBC security correspondent Gordon Corera said: "Officials are stressing that there is no intelligence of an imminent attack. This is more precautionary than anything else.
"If there was some kind of intelligence of a plot under way, or that there was a threat to these locations tomorrow, then the threat level would go up to the highest level which is 'critical'. That's not happening.
"These sector threat levels do change quite often. Normally the changes happen out of the public eye and officials don't comment on them.
"But what we can expect to see is a greater police presence, particularly at airports and large railway stations."
A Scotland Yard spokesman said: "The threat level to the UK is at severe, which means that an attack is highly likely, and has been since January 2010.
"We will police accordingly and use a range of covert and overt tactics which remain under constant review."
The Home Office said there was a "continuing need for everyone to remain vigilant and to report any suspicious activity to the police".
A spokesman for airports operator BAA said: "Security at our airports remains at a high level and we remain vigilant at all times."