Drug traffickers targeting cruise liners, Soca says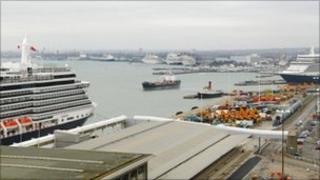 Drug traffickers are targeting cruise liners to smuggle cocaine from the Caribbean and South America to Europe, the Serious Organised Crime Agency and the UK Border Agency have warned.
They claim there is growing evidence criminals are placing drug couriers on board and attempting to corrupt crew.
Staff and travel agents have a list of tell-tale signs, they said.
The warning comes as six people were jailed in the UK for trying to smuggle 35kg of cocaine aboard a cruise ship.
The Bulgarian and Lithuanian nationals were sentenced to a total of 87 years at Canterbury Crown Court.
They posed as passengers on the MSC Orchestra which arrived in Dover in May last year en route to Amsterdam from Brazil.
During a search of cabins, UK Border Agency (UKBA) officers found a number of "bodysuits" designed to be worn under outer clothing with packets of drugs stitched into them. The drugs seized had an estimated street value of £1.4m.
Two Bulgarian men, two Bulgarian women, three Lithuanian men and one Lithuanian woman were charged under the Misuse of Drugs Act 1971.
Seven pleaded guilty and the eighth was found guilty after a trial. Six were sentenced on Friday and the remaining two will be sentenced next week.
Popular holiday
The Serious Organised Crime Agency (Soca) and UKBA said couriers placed on board by organised criminals have the potential to "smuggle multi-kilo loads of cocaine or heroin".
Soca executive director Brad Jones said: "Organised crime groups will always attempt to take advantage of legitimate business for their own ends, so Soca works closely with industry to restrict the opportunities available to them.
"By warning the cruise and travel industries of potential signs of criminal exploitation, we can stop ships from being an attractive form of ready-made transportation for drug traffickers."
Cruises have become increasingly popular with UK holiday makers over recent years, now accounting for one in 10 package holidays.
Advice offered to the industry includes paying close attention to passengers who book at the last minute and pay in cash.
Those that choose not to engage in on-board activity, or do not appear to fit in with the other passengers - such as younger passengers on a cruise targeted at the over-50s - should also be scrutinised, they said.
They have also advised staff to be on the look-out for crew who attempt to access areas of the ship not associated with their job, as sometimes the criminals bribe staff so they can hide their consignment in different parts of the ship.
In May 2010, two unemployed Spanish men were jailed for 12 years each following a failed attempt to smuggle 33kg (72lb) of cocaine through Southampton.
Tanasu De Jesus Quevedo-Ojeda, 28, and Oliver Vidal Hernandez, 27, had boarded the Black Watch cruise liner in Peru and were due to remain with the ship as it travelled to the Canary Islands via Southampton.
They were arrested as they disembarked the ship at Southampton on 27 March.
The cocaine was concealed inside leggings worn beneath their trousers and they had been paid to deliver it to the UK, Gran Canaria and Tenerife.