UK Trade and Investment staff 'told to use up £1m'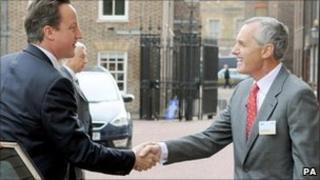 Staff at a government department were asked to dream up ways of spending £1m so it would be available again next year, the Daily Mail is claiming.
In leaked e-mails, Sir Andrew Cahn, former head of UK Trade and Investment, told senior staff the Foreign office was "heading for an underspend and wants to get money out of the door".
The Foreign Office (FCO) refused to say whether more cash was offered to UKTI.
UKTI said it had not drawn any extra resources from the FCO this year.
The e-mail from Sir Andrew read: "If we can spend money in this financial year on a one-off basis, then we can have at least £1m", the Mail reported.
"Can you think what we might do with such money?" he asked.
Sir Andrew reportedly suggested using it to offer trips to the UK to staff based abroad or spending it on a leadership conference.
The newspaper said the e-mail exchanges took place in November following the coalition's Spending Review, which set out cuts across the board to reduce the government's budget deficit.
A Foreign Office source told BBC political correspondent Gary O'Donoghue phrases such as "getting money out of the door" were wrong and totally unacceptable.
In an official statement, the Foreign Office said budget discussions with departments like UKTI were common during the year but a spokesman refused to say whether it had been offered more cash.
'Rigorous checks'
A spokeswoman for UKTI said the government did not comment on leaked documents.
"Government spend is subject to rigorous value for money checks to ensure appropriate return for taxpayer funding," she added.
"All of UKTI's services are subject to independent assessment. For every £1 of taxpayers' money spent, our customers tell us that this generates £19 of additional profit for their businesses.
"UKTI has not drawn any additional resource from the FCO this financial year."
She added that the staff visiting the UK would be visiting trade fairs and helping UK-based firms to export their products.
Yvette Cooper, shadow foreign secretary, accused Foreign Secretary William Hague's financial planning of being "in chaos".
She said: "The foreign secretary has cut spending on long-standing programmes dealing with the fight against international drugs and crime, at the same time as his department is rushing to 'get money out the door'.
"At a time when jobs and livelihoods in Britain are being put at risk by government cuts, the Foreign Office needs to show it's got a proper grip on its priorities and financial plans."
Matthew Sinclair, of the pressure group Taxpayers' Alliance which wants to see lower taxes, said: "It is absolutely shocking that while ordinary taxpayers and struggling businesses are working hard to look after their money, UKTI are casting around for ways to spend it.
"This just confirms that too often in the public sector spending is an end in itself, whether it is bureaucrats looking to grow their budgets or politicians making a shallow attempt to show they care about standards," he added.
The BBC's Gary O'Donoghue said the incident was embarrassing for ministers at a time when they were meant to be saving money, not trying to spend it.
Sir Andrew was chief executive of the UKTI - responsible for promoting British business abroad - for four years.
Last June, the Cabinet Office revealed he was one of the highest-earning senior civil servants, on a salary of between £205,000 and £210,000.
He left the job earlier this week to take up a new post in the City.
A spokeswoman for the UKTI respondend that Sir Andrew had been a "highly effective" chief executive.
She said he had introduced a performance monitoring system which showed that in 2007 the UKTI had helped 15,000 companies earn an extra £2.5bn a year.
Susan Haird, now acting UKTI chief executive, was among those to respond to Sir Andrew's call for ideas, according to the paper.
She is reported as saying that using unexpected funding for visits was a "good idea and money can be spent swiftly on those".