Newspaper review: Papers divided over VAT increase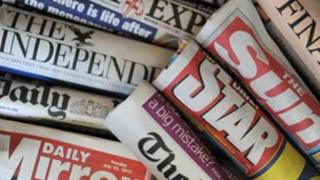 The rise in VAT leaves the leader writers divided - for the Times it is unappealing but necessary to restore the public finances.
Similarly, the Daily Mail finds it deeply unwelcome but imperative.
However, the Guardian describes the increase as a political choice dressed up as economic necessity.
The Daily Mirror says the chancellor let the cat out of the bag by saying the new rate would be permanent. It says it has little to do with the deficit.
Food substitutes
Many papers consider how retailers responded to the rise in VAT.
The Times says the cost of items from a cup of coffee to gym membership leaped as companies used the new rate to push through a range of extra price rises.
The Sun says shrewd shoppers can avoid VAT by the "sensible substituting" of foods that do not attract the tax.
For instance, the paper says potato crisps and ice cream are taxed at 20% but tortilla chips or corn chips and frozen cheesecake are zero-rated.
Share boost
A number of papers find some economic cheer amid the gloom of VAT-fuelled price increases.
The Guardian says someone forgot to tell the City about the higher rate.
The paper says shares powered ahead to close at their highest level since the banking crisis in 2008.
The Daily Express thinks Britain is set for a booming year because of the surge in share prices, a rise in the number of mortgage approvals and a strong manufacturing industry performance.
Ill feeling
The Daily Telegraph reports that almost two million workers, representing 6% of the labour force, called in sick after the Christmas and New Year break.
The Telegraph says the missing workers are estimated to have cost the economy £302m.
Of those calling in sick 275,000 blamed a cold, cough or flu.
The Daily Mail adds that while many were genuinely ill, managers suspect some were simply trying to prolong the Christmas break.