Rail fare rise campaign unveiled at Charing Cross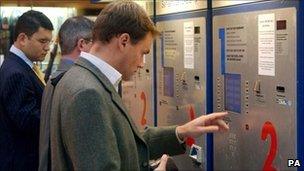 A campaign against rail fare rises has begun as millions of commuters return to work after the Christmas break.
The Campaign for Better Transport asked passengers at London's Charing Cross station to sign petitions, write to the government and take part in protests.
Season ticket prices rose by an average 5.8% from Sunday - with some up by as much as 13%.
The government, train operators and London Mayor Boris Johnson say the rises are needed to pay for investment.
Supporters of the campaign donned masks depicting David Cameron and Nick Clegg, while one wore a mask of Transport Secretary Philip Hammond.
The campaign has also won the backing of broadcaster Michael Palin, whose said passengers being "held to ransom" would be forced on to the roads.
The Campaign for Better Transport (CBT) has calculated that the new cost of season tickets works out at about 20% of the average UK salary.
CBT chief executive Stephen Joseph said: "Commuters feel like they are being pickpocketed by the government, expected to pay more year on year for the same poor quality service.
"Even with the promised extra investment, many passengers will see no actual improvement to their daily commute.
"Politicians need to start living in the real world and understand that people simply cannot afford to pay a fifth of their income just to do a day's work.
"The government pledged to create fair fares and we all expect them to keep that promise."
Former Monty Python star Michael Palin, whose TV programmes have followed him travelling on rail networks across the world, said: "Rail fare rises are holding travellers to ransom and increasing the likelihood that people will have to take to our already-overcrowded roads.
"Regular price hikes are no way for the government and train companies to reward their regular customers.
"Instead of milking them, they should be thanking them for their loyalty with a better, simpler, more competitive fare structure."
But a spokesman for the Association of Train Operating Companies said: "Much of what the CBT is saying simply doesn't stack up.
"Passengers are already benefiting from record levels of investment in our railways.
"Nine out of 10 trains get to their destination on time and, according to the independent passenger watchdog, four out of five people are satisfied with the service.
"While we understand people won't welcome any kind of price increases, it is important to remember that we need to continue and sustain investment in our railways."
And a Department for Transport spokesman said the scale of the national deficit meant the Government had to take tough decisions on future rail fares.
There were commitments to investment in more than 2,100 new rail carriages and a £900m programme to electrify lines and complete Crossrail and Thameslink projects, he said.
Fares on London's Tubes and buses also went up on Sunday, rising by an average of 6.8%.
Regulated fares, which include season tickets, on Southeastern services have been allowed to rise by an average of 7.8% to take account of special investment such as the high-speed Javelin trains.
Related Internet Links
The BBC is not responsible for the content of external sites.