Parking restrictions and charges relaxed in England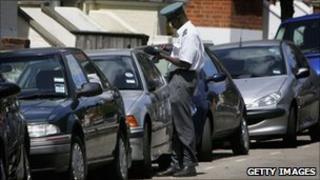 The government is relaxing restrictions on the number of parking spaces in new housing developments and encouraging councils to cut parking charges.
It says the new measures will make life easier for motorists in England and allow councils to set parking policies that are "right for their areas".
Decentralisation Minister Greg Clark said the "war on motorists" was ending.
But shadow transport secretary Maria Eagle said drivers would feel conned as cuts meant some charges may rise.
The changes come in as motorists face rising petrol costs. Fuel duty has gone up already and will increase again with Tuesday's VAT rise.
'Proportionate'
The government is lifting a restriction, introduced in 2001, on the number of parking spaces allowed in developments of new homes.
It will also no longer instruct councils to set high parking charges to encourage the use of other transport.
Mr Clark told the BBC councils should be free to set charges to attract shoppers to town centres, without interference from Whitehall.
The existing restrictions have also led to more aggressive parking enforcement and increased on-street parking congestion, he added.
The Department of Communities and Local Government said the new measures would encourage "proportionate parking enforcement", taking into account the effect of parking charges on the "vitality of their local economy and local shops".
But Stephen Wilkinson, a Conservative councillor in Cheshire, said parking charges were unlikely to be reduced.
The deputy mayor of East Cheshire Council told BBC Radio 4's Today programme: "I'm afraid it will be very difficult, considering the government's settlement - a 30% cut over four years - for councils to reduce parking charges, but our emerging budget suggests there will be no increase.
"Parking is a revenue source. I accept the the principle [behind the government's decision], but in reality I think councils will be unable to deliver."
Matthew Mooney, a restaurateur in Knutsford, Cheshire, told Today high charges were bad for his business, but he added: "We are not expecting any reductions. I don't think that's realistic, but we would probably settle for them not going up."
'False promises'
To deflect criticism that the announcements are environmentally unfriendly, ministers have also said charging points for electric cars on the street and in car parks will now be allowed without the need for planning permission.
But a Green Party spokesman said the plans were "a bad idea in every sense".
"What's being proposed here will inevitably increase traffic both in city centres and in residential areas," he said.
"There will be more pollution, with corresponding health effects, and in time, a corresponding bill for the NHS.
"There will be an increase in transport emissions which will take our climate policy in the wrong direction. We can also expect more traffic accidents, and more British children will have more restrictions on where they can play safely."
Mr Clark denied the changes were bad for the environment and said the push to increase parking charges had been counter-productive.
"It gets people into their cars to out-of-town shopping centres, to supermarkets with free car parks, and that affects local shops," he said.
"So it is neither green nor good for the economy to get people to leave their local shops, that sometimes are struggling, and to drive past them to park in a place that is free of charge."
Labour's Ms Eagle said: "Motorists won't be fooled by this attempt to draw attention away from the double whammy of fuel price hikes and the VAT rise which are combining to drive up prices at petrol stations to record levels.
"Drivers will feel conned by these false promises that parking charges will be lower.
"The government is hitting many councils with front-loaded cuts that may actually encourage areas to raise parking charges, not lower them."