Bomb plotter Nezar Hindawi wins legal bid over release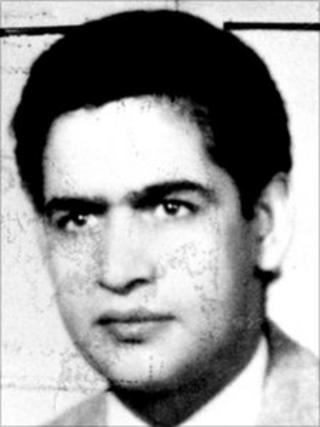 A man jailed for 45 years for plotting to blow up an Israeli airliner has won a legal challenge against UK government refusals to allow his early release.
Jordanian Nezar Hindawi was jailed in 1986 after planting a bomb in his fiancee's hand luggage for a flight from London Heathrow to Tel Aviv.
The Parole Board has recommended release but successive governments have rejected its advice.
The High Court ruling does not mean Hindawi will be freed immediately.
A further hearing will be held to decide whether the Supreme Court should now make a final ruling, or whether the justice secretary should be ordered to reconsider his decision.
Hindawi's 45-year sentence is believed to be the longest specific jail term imposed by an English court.
Hand luggage
In Friday's hearing, two senior judges quashed decisions by Justice Secretary Ken Clarke and his predecessor, Jack Straw, who refused to accept the Parole Board advice.
The judges ruled that Hindawi, 56, was subjected to a "flawed and unfair" decision-making process.
Hindawi was sentenced at the Old Bailey for attempting to blow up an El-Al plane, carrying 375 people.
He planted a timer bomb in his pregnant Irish fiancee's hand luggage, without her knowledge, but the explosives were detected and the plot was foiled.
The BBC's Danny Shaw says it seems this ruling will pave the way for Hindawi's release and eventual deportation back to Jordan, and there will be further legal submissions on the case next week.
He said the Parole Board had found that Hindawi had shown insight into his offending behaviour and remorse for all his intended victims, in particular his fiancee and her daughter.
He added that the plot had caused a diplomatic row when it emerged that Hindawi had been trained by Syrian intelligence, who had also provided the bomb.
'Implacably opposed'
Hindawi became eligible for parole in 2001 after serving one third of his sentence, and must be released on parole no later than 2016.
Successive government ministers have rejected his applications for early release, leading to a series of legal battles.
David Blunkett, while home secretary, refused in 2003 to refer his case to the Parole Board.
Then, in November 2009, former justice secretary Jack Straw refused to accept a Parole Board recommendation that Hindawi be released - a decision confirmed by his successor, Ken Clarke.
In 2010 legislation was passed removing that power from government ministers for the future, but it did not affect the Hindawi decision.
In the latest legal battle, Tim Owen QC, appearing for Hindawi, told Lord Justice Thomas and Mrs Justice Nicola Davies that the justice secretary had been "implacably opposed" to Hindawi's release throughout the parole process.
Lord Justice Thomas ruled the papers put before the justice secretary for him to make his decision "did not put a balanced case".
"They only put the case for rejecting the decision of the Parole Board and no case as to why he should accept it," he said.
"Moreover, the case for rejection was drafted principally by the official who had had day-to-day conduct of the case in front of the Parole Board and lost.
"The secretary of state was therefore not put in a position where he could properly take the decision."
He said this was "contrary to principles of justice that our law has always applied in cases however heinous a crime might be".