Job centres to give food vouchers to unemployed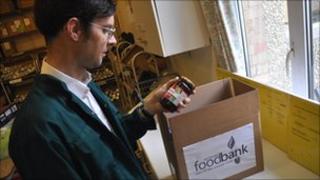 Job centres around Britain are to give food vouchers to people experiencing severe financial hardship.
The vouchers, which can be redeemed at foodbanks run by the Trussell Trust charity, will be handed out by staff at Jobcentre Plus (JCP) branches.
One voucher can be exchanged for three days' worth of food.
The scheme will be piloted in Salisbury and Gloucester from 4 January, before expanding across England, Wales and Scotland in April.
It will run in Jobcentre Plus branches that have a foodbank in the surrounding area.
The Trussell Trust already has 78 foodbanks around the country and anticipates that there will be 86 foodbanks by April 2011.
Severe hardship
The move comes after lengthy negotiations between the trust and the Department for Work and Pensions (DWP). The charity sent a report to the Secretary of State for Work and Pensions, Iain Duncan Smith, in the summer.
A person experiencing severe financial hardship, caused by issues such as benefit delays or being ineligible for a JCP crisis loan, will be given a voucher that can be exchanged at a trust foodbank for three days' worth of food.
An individual can be given three vouchers in a row during one particular period of hardship, and can be helped three times in a year, meaning a total of nine vouchers a year can be given out per person.
Chris Mould, director of the trust, said: "Although it has taken two years of campaigning to get to this point, we are delighted that ministers are listening to feedback from the front line of the voluntary sector.
"Their decision means people on the breadline will now get the help they need more easily and that's of course what matters to us in the foodbank network.
"This is about sensible working between a public service and the voluntary sector."
The Trussell Trust is a Christian charity and its staff and volunteers arrange collections of food.
They ask supermarket shoppers in each foodbank area to donate an extra item from a predefined shopping list - then distribute the goods by means of vouchers.
The vouchers are distributed by "statutory professionals" such as doctors, health workers, social workers, the Citizens' Advice Bureau and probation officers among others.
Some 41,000 people were fed by 44 foodbanks last year, and the trust estimates that 35-40% of them had problems with benefits.
When the first foodbanks were set up in 2000 in Salisbury, employees of the local JCP were initially one of the main distributors of foodbank vouchers.
When the charity's foodbank franchise scheme rolled out around the country in 2004, other JCPs also began to adopt the process.
Benefit delay
However, in December 2008 the then-Labour government issued a directive stopping JCPs from referring clients in crisis to a foodbank.
When the charity challenged the government over this decision, it initially responded that, among other reasons, all those entitled to benefits received them on the day if they were in crisis and that delay was not an issue.
But the trust says it is "simply not true that all those entitled to benefits receive them on the day".
On behalf of the trust, MP Andrew Selous asked a series of parliamentary questions in 2009 and 2010 about benefit delay.
The eventual response given in January 2010 stated that 37,046 people waited 17 days or more for their jobseeker's allowance, of which 20,068 waited 22 days or more.
Mr Mould said: "We wanted to work with the job centres again because tens of thousands of people across the country are not getting paid their benefits on time.
"Unless the DWP has a target of reaching 100% of people, there will be thousands of people who will be left in trouble through benefit delay, or for not being eligible for a crisis loan, for whatever reason.
"If you have a family to feed and no money then waiting even a couple of days is too long."
A spokeswoman for the DWP said: "We recognise the merit of having additional targeted support in place such as foodbanks which play an important role in local communities.
"Jobcentre Plus is already in discussion with the Trussell Trust and have agreed to work together in the new year."