Wikileaks: Assange supporters rally at London court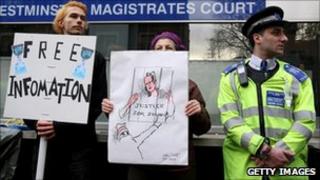 While the founder of whistle-blowing website Wikileaks, Julian Assange, sat in a London courtroom, dozens of his supporters stood outside in a show of solidarity.
Taking over the pavement opposite the court, protesters used a combination of chants and placards to argue that efforts to extradite Mr Assange to Sweden over sexual assault claims were, in reality, a thinly veiled attack on freedom of information.
Nearly 100 supporters filled the air outside the court with chants of "free Julian now" and "don't shoot the messenger".
Many held placards bearing Mr Assange's messages such as "justice for Julian", "extradition = rendition" and "show trial", a phrase used by his lawyer, Mark Stephens, to describe the direction he felt the legal proceedings were taking.
Andrew Robertson, 40, an IT worker from east London, appeared to sum up the prevailing mood of those who had braved chilly conditions to show their support when he said "the issue of freedom of information is under threat".
"The fight for freedom of speech is a marathon, not a sprint. It's a human desire to want to speak up; it's been fought for over time and fought for in the future," he said.
The protesters were visibly outnumbered by the scores of journalists, photographers, and cameramen from around the world who jostled for position outside City of Westminster Magistrates' Court.
Campaigner Peter Tatchell, whose speech prompted rousing applause and loud cheers, rallied supporters by arguing that it was necessary to defend Wikileaks because the website performed a "public service" by releasing information that was "in the public interest".
"It's about giving us the information that should be given to us as a right. If we had proper democratic governments we wouldn't have to get this information from Wikileaks," he said.
Similar sentiments were expressed by Lindsey German, national convener of the Stop the War campaign, who said: "We are standing up for the freedom to know what our government is doing. We can't trust what our governments are doing. They lied to us over Afghanistan, they lied to us over Iraq and they continue to lie to us.
"We're going to oppose his extradition. We believe this is a criminal act by our government to stop people knowing what they deserve to know."
Mr Assange is accused of having unprotected sex with a woman, identified only as Miss A, when she insisted he use a condom.
He is also accused of having unprotected sex with another woman, Miss W, while she was asleep.
But the Wikileaks founder claims the allegations against him are politically motivated and designed to discredit him.
Referring to these allegations in his speech, Mr Tatchell said: "None of us know the truth about the sex allegations against Julian Assange but we do know that he is being victimised."
But a bystander, whose face betrayed a sense of curiosity, did not share the sense of injustice expressed by Mr Assange's supporters.
Gretta Mattoon, 71, had paused for a moment during her lunch break to watch the media scrum.
The administrator from Kensal Rise, in north London, said she had "mixed" feelings about Wikileaks.
"I'm glad to know some things, but other things aren't a good idea to release - for example, the revelations about China.
High-profile supporters
"It might compromise some people in diplomatic situations."
Outside the entrance to the court building, across the road from the placard-waving demonstrators, a dizzying array of camera flashes greeted Mr Assange's high-profile supporters as they left the building.
Photographers and cameramen surged forward as Bianca Jagger, Jemima Khan and journalist John Pilger emerged.
News of Mr Assange's release on bail gradually trickled through to his supporters, with many checking news websites and Twitter on their mobile phones for confirmation.
An announcement confirming that he had been granted bail, made by a protester using a megaphone, prompted loud cheers and whistles.
However, after the initial elation, one protester expressed a note of caution.
The 31-year-old woman, who did not want to be named, said: "It's great that he's been bailed but the US still want him and as long as they want him he has a degree of freedom, but not the real freedom he should have in the civilised democracy we claim to be."
Her sense of caution was vindicated just hours later when it emerged that the Wikileaks founder will remain in prison pending an appeal against the bail decision, which has been lodged by Swedish prosecutors.
Regardless of the outcome of these legal wranglings, many of Mr Assange's supporters believe they are on the front line of a battle to defend freedom of information.
Two masked members of of Anonymous - a group committed to circulating cables released by Wikileaks - said they would continue to disseminate secret information put out by the whistle-blowing website because they were committed to giving people the opportunity see the information for themselves.
And, they said, there were people all over the world who would work with them.