Afghanistan 'friendly fire' may have killed soldier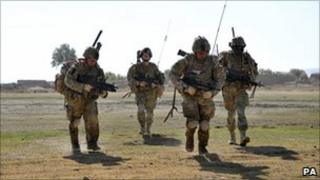 "Friendly fire" may have killed a British soldier in Afghanistan, the Ministry of Defence says.
The soldier from 3rd Battalion Parachute Regiment was shot in Nad Ali, Helmand province, on Sunday.
Officials said an investigation had been launched after first reports had indicated that an attack on an insurgent position by a US aircraft may have been the cause.
The aircraft attack had been requested by UK forces on the ground, they added.
The BBC understands that two other British soldiers were injured in the incident.
The number of UK service personnel killed in operations in the country since 2001 stands at 346.
The soldier's next of kin have been informed, but his name has not yet been released.
Nato's International Security Assistance Force said: "While conducting a dismounted patrol, Afghan and coalition forces were engaged with enemy forces and requested close air support to suppress the enemy fire.
"In the subsequent contact, an Isaf servicemember was killed. The investigation is to determine if the Isaf casualty was caused by enemy or friendly-force fire."
When the death was first announced on Sunday, spokesman for Task Force Helmand, Lt Col David Eastman, said of the soldier: "He has made the ultimate sacrifice protecting the people of Nad Ali from insurgent intimidation and defending his country from the threat of terrorism.
"No more could be asked of any soldier. He will be greatly missed by all who knew him."