Newspaper review: Intrigue over Russian spy claims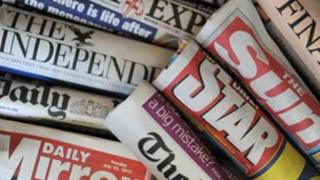 The story of the Russian-born parliamentary aide facing deportation from the UK accused of spying is carried by many of Monday's papers.
"The Cold War may be over," suggests the Daily Mirror, but the MP who employed the researcher "should pick his staff more carefully".
Russian media reports consider her treatment "revenge" over the 2018 World Cup vote, reports the Daily Telegraph.
Katia Zatuliveter "doubled as Commons tour guide", reports the Times.
Clegg crisis
MPs vote on proposed university fee increases this week, and the Guardian suggests Lib Dem leader Nick Clegg is "bracing himself for a 'train wreck'".
It reports that David Cameron "sanctioned a 'rescue Nick' operation" this weekend, with two announcements to appeal to Liberal Democrats.
Mr Clegg has made "desperate" pleas for backbench support, says the Daily Mail.
The Sun, though, backs "Brave Clegg", saying he knows "power and responsibility go hand in hand".
Warning to West
The next decade could be remembered for the "decline of the West", according to an extract from Gordon Brown's new book published in the Guardian.
Europe and the US face the challenge of "the rising Asian powers", he warns.
Many papers cover the government's proposals to look into the sexualisation of children's fashion.
Ministers are being warned by parents that it would be too difficult to legislate on skirt lengths and height of heels, according to the Telegraph.
Last dance
"Good widdance!" declares the Mirror, after Strictly Come Dancing fans voted Ann Widdecombe off the TV contest.
While describing her performances as "less-than graceful", the Telegraph still offers "Thanks for the memories".
The Mail's Claudia Connell says the departure was "like putting a well-loved family pet out of its misery".
"I defy anybody to watch next week's semi with the five boring old good dancers and not feel a pang about her absence," she suggests.