Local neighbourhood groups to get planning powers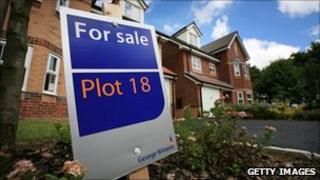 Local people are to be given more say over developments in their areas, ministers have pledged.
The changes - designed to cut red tape - mean some planning responsibilities will pass from councils to official local groups.
The Localism Bill could mean homeowners could build extensions, add a storey or conservatory or build driveways without planning permission.
Communities Secretary Eric Pickles is due to publish the bill in coming days.
Incentives
Under the plans, people would also be given the power to approve or reject proposals for new housing developments, schools and other public buildings in their areas.
Incentives will be given to communities which agree to new homes being built.
Groups of householders will be allowed to apply to be recognised as "neighbourhoods", covering a group of streets or larger areas.
There would be a presumption that local authorities will approve the status.
Neighbourhoods could then prepare "neighbourhood plans" which would be put to referendums.
If approved, their plans would then have to be accepted by the council.
Mayoral plan
The groups would also be allowed to draw up categories of development which could be carried out without planning permission - such as extensions or loft conversions.
Communities minister Greg Clark told the Sunday Telegraph: "We want to move away from a system with significant elements of imposition from above, to one with participation and involvement at its heart - not just warm words, or a commitment in principle, but real opportunities for people to have a say.
"We also want to move away from a system that seeks to resolve the different needs of different groups at a local level by imposing choices from above, towards one which enables a mature debate at local level."
The paper also reported that the bill would pave the way for elected mayors in 12 cities: Birmingham, Bradford, Bristol, Coventry, Leeds, Leicester, Liverpool, Manchester, Newcastle-upon-Tyne, Nottingham, Sheffield and Wakefield.
BBC News website readers have been sending in their views. Here are a selection of comments:
Considering Greg Clark just announced the ending of all government funding to planning aid, his words ring very hollow when he said that he wants "real opportunities for people to have a say". How does he expect people to do that when the one organisation that has been doing it long before this government came to power has had all its funding cut in one fell swoop. The actuality does not even remotely match the rhetoric. James Potter, Reading, Berkshire
Okay what happens when two numerically equally balanced but politically miles apart neighbourhood groups demand that their views be dominant? Is there to be an appeal procedure against refusals? If so, who pays? Do the groups who refuse the planning decision have to pay if they lose and if not, why not? Mr Mayhem, Southampton
If these changes were brought in, we would have never been able to get our extension. We asked the neighbours if they had any objections, to our face they said no but they inundated the council with harsh letters against the construction. The council could not find anything wrong with the application but the neighbourhood was so clicky it was rejected. We had meetings after meetings, it was horrible and intimidating. Eventually we got the permission and built the extension but under these changes it would not have happened as the power would have been given to our neighbours, who would reject it, not on sufficient grounds but just because they didn't like change. Sarah, Oxfordshire
I think this is a brilliant idea to give the power to the people who actually live in the area. My neighbours are for my application for a loft conversion, yet the council still refused. Wayne Lewis, London
Does this mean that my next door neighbour can now build their back extension even though the council rejected it a few months ago? Mr Foster, London
I think everybody will be negatively effected by this bill, which should be called the nimby bill, should it ever pass. UK planning law is the envy of the world, if not middle England, and this dilution of it will only result in the most wanton self interest guiding the future of built development. Bad move. Francis Power, London
Hopefully this might actually let the people who live in my area have a say on developments at last. The government and developers want to build houses everywhere around where I live and destroy the beautiful surroundings. Despite opposition from nearly everyone, the council repeatedly approves developments and doesn't seem to listen to anyone. This proposal might actually let the people who live in the area decide what should happen for once and not overpaid bureaucrats on the council. There has been the threat of an "eco town" being built practically on my doorstep for the last few years, despite it having pretty much no local support as it would effectively turn a few rural villages and hamlets into a sprawling mess, so this bill could be a great help. S Davis, Bedfordshire
As an environmental consultant I am deeply concerned that the lack of a proper planning process will result in direct destruction to important environmental features such as bat roosts, which can often be found in residential properties being extended. Although legislation is in place to protect such sites, without the due planning process there will be no means of control and such aspects will be wantonly overlooked and lost, thus impacting on species conservation. This matter does not appear to have even registered with the powers responsible for the new scheme. Nick Sanderson, Nottinghamshire
The flaw in the argument in favour of local participative planning is to be found in the phrase "mature debate". Living in a community of 40 or more residences my experience is that mature debate is impossible. In the absence of mature debate top down planning within a legislative framework is probably the most satisfactory approach. Looking at the present situation with student tuition fees and the problems facing the Liberal Democrats I don't see a any single outcome to their "mature debate". Conal Stuart, Lancaster
Will locals have a say over applications for wind farms, which is one of the worst and most hated threat to any rural community? A Skelton, Stafford
This sounds like a recipe for planning chaos, and an opportunity for local groups of busybodies to highjack local decision making. There is already a local body in most areas which can carry out this role - parish councils and town councils. These are the lowest level of civic government with representatives who are elected by local residents. Alan Holden, Canterbury, Kent
I fear such a local agenda with lead to a nimby (not in my back yard) culture when considering infill development. It will make the planning process harder and more complex as there will have to be some system of appeal, which will ultimately move the decision away from the locals anyway. The current system, although not perfect has worked well for many years and should not be fundamentally changed. Raymond Crosby, Hemel Hempstead