Tuition fees: Poorest students to get year for free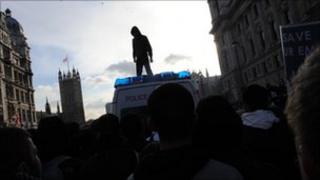 Thousands of university students from poorer backgrounds could have their tuition fees paid for up to two years under new government proposals.
Universities minister David Willetts said up to 18,000 students could get support for their fees from a new fund.
This and other safeguards should "absolutely" allay student concerns about the fees rise, Mr Willetts said.
But ahead of Thursday's vote to raise fees to £9,000, student leaders said the plan would have "limited impact".
As MPs prepare for that vote - on whether to back government proposals to increase the cap in fees from £3,375 to £9,000 from 2013 - Lib Dem sources said it was still unclear which way their 57 MPs would go.
The party has come under intense pressure from students after promising to abolish tuition fees in its election manifesto. Leader Nick Clegg and all other Lib Dem MPs signed a pre-election pledge to vote against any rise.
Mr Clegg's chief political adviser told the BBC that the party would announce its intentions following a meeting early next week.
'Extra assistance'
Cash for the new fund - set aside for pupils who were eligible for free schools meals - would come from the £150m National Scholarship Programme already announced.
Under the plans, universities which charge more than £6,000 a year could be forced to pay such students' fees for a second year.
Ministers believe up to 18,000 students could ultimately benefit, significantly increasing the numbers of children from poorer families going on to higher education.
Free school meals are available to families claiming certain benefits and are given to around 80,000 pupils in each school year.
Mr Willetts told BBC One's Politics Show the plan was to allow universities to offer "extra assistance" to pupils from poorer backgrounds by "relieving their fees cost".
Before Thursday's vote, he said the coalition would be emphasising the "very good features" of its student finance package, such as the fact there would be no upfront charges and the salary level at which graduates will have to start repaying will rise from £15,000 to £21,000.
"There is absolutely no reason why students that are worried should have any genuine concerns about the proposals," he added.
Ministers will meet student representatives next week to consult them on the plans, which have strong backing from Deputy Prime Minister Nick Clegg.
'Huge debt'
But National Union of Students president Aaron Porter said the plans "won't get very far".
"Despite the trebling of tuition fees, what we have seen is no further detail on the requirements from universities to put money into support for students from the poorest backgrounds.
"We suspect this will have a very limited impact at a time when debt will be so huge for those leaving our universities."
Despite efforts to bring them on board, more than 10 Lib Dem MPs have suggested they will vote against the plan while some others are considering abstaining.
Amid reports of disagreements between senior Lib Dems over the issue, MP Norman Lamb - Nick Clegg's political adviser - acknowledged the issue was "messy" and "difficult" but had to be considered through the party's normal decision-making procedures.
"Nick Clegg is keen to try and get a consensus within the parliamentary party," he told the Politics Show.
While it was his "strong preference" to vote for the proposals, Mr Lamb stressed that it was "important to keep the party united."
However, the proposals - which he said would see the 25% poorest students pay less than now - would be "an engine for social mobility".
"He [Nick Clegg] wants to get everyone on side and supporting a policy which, I agree and he agrees, is absolutely in accordance with Lib Dem values," he told the Politics Show.
Mr Clegg earlier told the Independent on Sunday that he believed in a policy which was "brave and bold" and would "lower barriers of entry to university."
Labour leader Ed Miliband told the BBC he wanted Lib Dem MPs to vote against the measure.
"I think it's becoming clear that these proposals are an assault on social mobility in this country, on people's chance to get on, as students see themselves potentially landed with thirty, forty, fifty thousand pounds worth of debt," he said.
"That's why the government should think again. That's why Lib Dem MPs, in particular, should vote against these proposals on Thursday"
However, senior figures within his own party have expressed concerns about Mr Miliband's alternative plan for a graduate tax, shadow chancellor Alan Johnson saying it may not be "workable".
The proposed increase does not apply in Scotland nor for students resident in Wales, wherever they chose to go on to study in the UK.