One in 10 police 'on sick leave or restricted duties'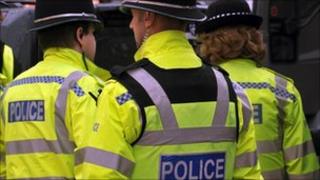 Nearly one in 10 police officers in England and Wales is on sick leave or restricted duties, the Times reports.
The newspaper says about 2,000 officers are off sick while 9,500 are on restricted duties, of whom 6,086 have long-term health issues.
It adds that the totals are up by 20% on four years ago.
But the Metropolitan Police Federation says those who should retire due to ill health cannot as rules only allow six per thousand to leave in this way.
The Times says its figures were compiled from Freedom of Information requests to all 43 forces in England and Wales.
In Warwickshire, nearly one in seven officers is on sick leave or restricted duty but in Cambridgeshire the figure is one in 24.
'Appalling'
The paper says 9,500 police officers are on restricted duty. Of those 3,492 have been on sick leave and are being gradually reintroduced to full duties.
All 9,500 get their full salaries while completing paperwork or answering phone calls - sometimes for just a few hours a week.
Metropolitan Police Federation chairman Peter Smyth said there was a widespread misunderstanding about the nature of restrictive duties which the Association of Chief Police Officers (Acpo) and Home Office had failed to correct.
He said: "The term covers many scenarios - for example an officer whose hearing has been damaged may no longer be able to carry a firearm or wear a surveillance earpiece but can carry out the full duties of a front-line officer.
"Likewise an officer with diabetes may not be able to drive response cars but can still perform the full role of a patrol officer."
He added: "The continued refusal of the Association of Chief Police Officers to correct misleading stories about the men and women they are supposed to lead is appalling.
"Officers who should retire because of ill health are not being allowed to do so. Why? Because Acpo promoted a policy under which no more than six officers per thousand can leave the service in this way."
Chief Constable Peter Fahy, who speaks for Acpo, said police chiefs wanted to be fair by those officers injured on duty or suffering stress-related problems.
But he added: "During hard economic times, the number of officers on restricted duties is a real concern and we have asked the Home Office review to deal with this matter.
"Previously there was concern about the number of officers getting medical pensions and, as a result, officers have been kept in office positions. This cannot be a long-term solution."
The Home Office said decisions on sick leave and restricted duties were made by individual chief constables.