Gatwick airport awash with stranded passengers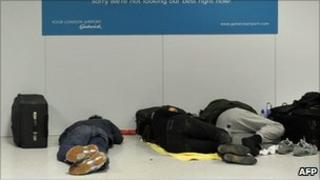 Tales of hours spent on icy roads only to arrive at a closed airport are common among the bleary-eyed travellers in Gatwick airport.
The runway may be open for planes and the departure board is not showing too many cancellations, but that does not mean that things are flowing smoothly for all.
The upstairs level of South Terminal has become a makeshift dormitory.
Cream blankets litter the floors, some abandoned, some wrapped around sleeping bodies.
Other people curl up on the seats, their faces turned to the wall as more alert passengers walk past with their suitcases rattling.
It is not the most conducive place for a good kip.
Gillian Bell, 38, a knitwear stylist, has been one of those blanketed people since Tuesday.
She spent seven hours on a bus from London with her magician boyfriend, only to discover her flight to Nice in France was cancelled.
She bought a ticket to Marseille - only for that flight to be delayed until Saturday. Her boyfriend will have a day longer as his flight is not until Sunday.
"We've spent more time and more money in this airport than we did during our trip to London," she says, as she sits on the neatly folded blankets on the hard-tiled floor.
Her boyfriend is taking a stroll around the terminal, leaving her to look after the luggage.
"Maybe after this, I'll go for a week's holiday with a massage," she laughs.
In the past three nights, she says she has had perhaps 10 hours' sleep under the fluorescent lighting, with the Tannoy announcements and the people walking past.
For US students Rashida Wright and Viviana Limon, a corner of the airport has become their bedroom.
Their blankets are spread widely, their luggage and clothing scattered around. They say they feel like hobos.
Hefty price
Wildly underestimating the time it would take them to get to Gatwick for their flight at 2100 on Tuesday, when icy roads in the south-east caused gridlock, they set off from Hammersmith, west London, a couple of hours before take-off.
Nine hours later they arrived.
"The taxi driver was an angel," said Ms Wright, a 24-year-old literature student from San Francisco.
Intermittent announcements declaring that "the runway is now open" do nothing to rally their spirits. They have spent almost £200 so far, for the taxi, changing airlines, and food, for what should have been a 30-euro flight back to their studies in Madrid.
Their five-day London stay has now extended to eight, with three days of classes missed.
"This is my first time in snow," said Ms Limon, from the sunny state of California, "but it's kind of a sad experience."
Almost cocooned in a section of the airport that has no view of the snow-covered landscape nor the grey sky, she says: "We sleep at random hours. I've no idea of whether it's day or night. I look at my watch and think, is it 5pm or 5am?"
Playing cards, e-mailing, chatting and drinking lots of tea "as it's so cold", is how they have passed their time.
Armed police occasionally pass by, airport staff have been checking people are OK, but it is still an uncomfortable place to stay for three nights.
In another brightly lit corner sits Romanian Paul Alexandru Nistor, 25.
A relative newcomer to the informal hotel that snakes through the temporary corridors of the terminal, he arrived only at 0300 on Thursday.
He shows his replacement ticket for a flight at 1835 to Munich - 36 hours later than he had planned on leaving the UK to visit family.
He has given up contacting friends to wait for him at Munich airport, just in case he does not make it tonight.
For someone who has slept in his clothes on a floor, he seems peaceful.
"It's not too bad, it's comfortable. The people are very nice, they gave us food and the blankets."
High up near the terminal ceiling, a bird trapped inside flaps against the windows. Like many here, it wants to fly freely.