Wikileaks: Sweden 'sends Assange arrest warrant to UK'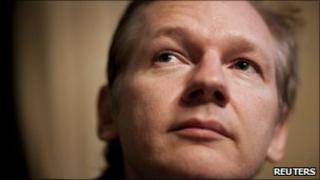 Swedish authorities have made a fresh request to UK police to extradite Wikileaks founder Julian Assange following sex crime allegations.
The prosecutors drew up a second European Arrest Warrant, after the first was rejected on legal grounds.
"We sent it. They asked for complementary information and now they have it," Swedish Prosecution Authority spokeswoman Karin Rosander said.
Mr Assange, who has released thousands of secret files, denies the claims.
The UK's Serious Organised Crime Agency (Soca), which processes European Arrest Warrants, declined to confirm whether the request had been received.
And a Scotland Yard spokesman said that, as of 1600 GMT on Friday, no arrest had been made.
Ms Rosander told the AFP news agency: "[Soca] were asking for additional information concerning the maximum penalty for all the crimes and infractions on the file.
"We usually only include the most severe offence, which was rape in this case," she said.
"The information was submitted," she said, but could not confirm if it had been received by British police.
Detectives in Sweden want to question Mr Assange after two women claimed they were sexually attacked when he visited the country in August.
The Swedish Supreme Court has upheld a court order to detain Mr Assange.
Mr Assange - reported to be staying at a secret address in the UK - has vowed to contest the allegations, saying they are part of a smear campaign against him.
His British lawyer Mark Stephens told the BBC's Today programme that the police knew where Mr Assange was living if they needed to get in touch with him.
He said his client was in a "bizarre situation" where he had tried to seek a meeting with the Swedish prosecutor to discuss the allegations against him, but had been rebuffed.
"If the prosecutor had any concern for the women making the complaints, any concern about truth or justice, she would pick up the phone and get in touch with Julian - she knows how to do it."
The original Stockholm district court arrest warrant for Mr Assange issued on 18 November was for suspicion of "rape, sexual molestation and unlawful coercion".
A Swedish appeals court later upheld the detention order and the Supreme Court backed that ruling.
If officers at Soca have received the new warrant, they will check it and pass it on to local police, who will then be able to serve it on Mr Assange - assuming they know his current location.
A hearing will then be held - normally at Horseferry Road Magistrates Court in Central London - where Mr Assange's lawyer will be able to challenge the warrant.
'Beyond repair'
Mr Stephens has previously described the legal process as "utterly irregular".
The warrant, valid in all EU member states, requires the receiving member state to extradite the suspect within 90 days of arrest, or within 10 days if the arrested person consents to surrender.
The warrant can only be issued for offences carrying a maximum penalty of 12 months or more.
Mr Assange's legal battle comes as some 250,000 US diplomatic secret messages - or cables - were released by Wikileaks, to the embarrassment of governments and politicians all over the world.
The latest cables released on Friday suggest that Gordon Brown's premiership was written off as almost "beyond repair" by the US embassy in London after less than a year.