Orchestras look for new tune in tight funding climate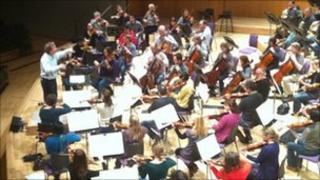 The squeeze on funding for the arts means some of Britain's orchestras could have to cut soloists or reduce salaries, as Andrew Bomford discovered when he visited the Halle orchestra in Manchester.
The beautiful sound of Dvorak's Slavonic Dance No.2 fills the Bridgewater Hall like spring on an icy winter's day.
On stage the 80-strong orchestra is rehearsing for the evening performance with the illustrious conductor Sir Mark Elder.
But backstage there is some anxious head-scratching going on about the finances.
Like almost all England's arts organisations, the Halle has had its budget cut by the Arts Council, the organisation which distributes public money to arts organisations in England.
'World class'
For this year the cut is about 7%, and for the Halle that means losing about £150,000 off its £2.2m grant.
John Summers, the chief executive said: "It affects regional orchestras much more than the four independent London orchestras because we have to employ our players on salary.
"We need to do so to get a world class ensemble here, in Manchester."
Orchestras in London have a much larger pool of talented musicians to choose from, so can afford to pay their players for each performance. Regional orchestras often do not have that luxury.
"So when we suddenly lose income for whatever reason it becomes quite challenging," said Mr Summers.
Orchestras rely on public money for about a third of their costs. The rest of their revenue comes from ticket sales, and increasingly sponsorship from businesses, or philanthropic giving.
It is a mixed-funding model which is different from that which exists in the US and most of the rest of Europe.
In the US, orchestras rely almost entirely on private funding, whereas in countries like Germany, Austria, and France, central and local governments pay most of their income.
Some arts patrons argue that England should become more like America in an age of tough government finances.
Facing reality
Michael Oglesby, a prominent Manchester philanthropist said: "As a hard-nosed businessman one starts off from the point of view that bums on seats ought to pay for everything, but realistically they don't."
Mr Oglesby is the founder and chairman of a major property firm called Bruntwood, and is a leading patron of the arts.
He believes arts organisations need to become less reliant on public money.
"I think we are now faced with the reality of the situation, which is that we have to find other sources for funding.
"I'm not saying the state shouldn't provide some money, but we have to work smarter and we have to work more intelligently," he said.
It is a subject of lively debate in the arts.
"I think that what we get in this country because of the mixed economy is organisations which have a commercial edge, and I think that edge isn't present elsewhere," said Mr Summers.
"But at the same time you have some support, so you can afford to take risks. I really like this mix. I really like the way we work and I think it produces great results."
But Sir Mark Elder has a slightly different view - he does not think the English funding model works particularly well.
He said: "In certain countries like Austria, Germany and France, for the last 100 years, there's been a sense of direct patronage from the governments into the cultural life of a city which has shored up their ability to plan with vision for the future."
"This is the greatest problem we've always had in this country - the money is so insecure, and very soon into the future. I don't think we do have the balance quite right here."
Asked if he thought that meant there should be increases in public funding in England, he agreed.
"In order to balance with our colleagues in Europe, yes. But this is hardly the time to shout for that particular one," he said.
The government is expected to announce plans soon aimed at encouraging more philanthropic giving to the arts.
Listen to Andrew Bomford's full report on the orchestra on Radio 4's PM programme, broadcast weekdays at 1700 GMT or again on the BBC iPlayer.