Charities in social care personal budgets warning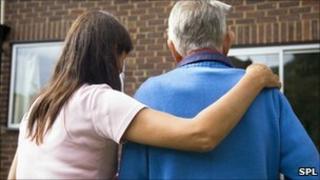 Personal budgets for social care are being used by some local authorities to save money, leading charities claim.
Charities including Mencap and Parkinson's UK warned this could leave vulnerable older and disabled people with inadequate care and support.
Councils were set a target of achieving full roll-out of personal care budgets by 2013 in November.
But Jeff Jerome, national director for Social Care Transformation, denied personal budgets were being misused.
Personal budgets allow individuals to decide how their state care allocation is spent.
'Maze of social care'
In November, Care Services Minister Paul Burstow unveiled the Vision for Social Care which pledged that one million older and disabled people who were eligible for social services support should be assessed for personal budgets by 2013.
Currently only just over 1 in 10 (13%) are receiving personal budgets, via direct cash payments.
Whilst the vast majority of charities service users, carers and professionals are in favour of the principle of personalisation, some are concerned about how people are being assessed for personal budgets.
Donna O'Brien, policy and campaigns officer for Parkinson's UK, told the BBC Radio 4's You and Yours programme: "There is a lot of anecdotal evidence and evidence from research that shows that personal budgets are being cut back by local authorities, and are not adequate to meet people's needs.
"They are being introduced at a time of general social cuts, and general underfunding of social care [underpinned] by a postcode lottery.
"While personal budgets do work for some people with Parkinson's, personal budgets are not the panacea that the government's Vision for Social Care suggests... people feel lost in this maze of social care."
The RNIB's campaigns officer Geoff Fimister said he supported the principle of personal budgets but it was important "they were not used as a vehicle for simply reducing the amount spent on social care provision".
"RNIB is extremely concerned that, when misused as an opportunity to implement cuts, the introduction of personal budgets could have a negative impact on care services and fail some of the most vulnerable members of our society," he said.
'Easy opportunity'
Mencap's director of policy David Congdon said the charity was so worried about reductions it was issuing guidance to help people challenge decisions.
"The difficulty with personalisation is because individuals get a budget - and most people who are looking at social care won't know what individual people are getting - it does provide too easy an opportunity for local authorities to reduce their spending by giving people an inadequate budget.
"One very typical way of doing that is not giving them enough money to pay the personal assistant they want the proper hourly rate and that can be a way of implementing cuts by stealth and that actually detracts from the good principle of personalisation," he said.
Graeme Ellis, who is registered blind and is a wheelchair user, has been on a personal budget for more than a year and was originally assessed as needing £21,000.
"Life's been great - I went from almost being housebound to being able to get out and about and do things to enable me to get out into the community and do support work with other disabled people.
"It gave me the incentive to look for work again. It gave me the incentive to be independent; to try to do what I could do within my limitations," he said.
But then after being reassessed, he got an e-mail from his social worker telling him the his council would have to cut their contribution by £10,000.
He told the BBC's You and Yours programme he was frightened he was going to end back in the position he was in four years ago.
"I'm frightened about the effect that being housebound will have on my well-being because being able to get out of the house and do things is one of the things that enables me to carry on.
"I have to accept that there's a recession but that shouldn't be threatening to take away care from me that's essential for my well-being," he said.
'Crisis'
Carers centre manager Eleanor Cowan told the BBC she was "increasingly worried" about the effect cuts to personal budgets was already having on carers.
"Although the idea behind personalisation is fantastic, giving people choice and control, with what's actually happening, that isn't always the case.
"I can think of a wheelchair user who, with their new personal budget would not be able to afford the same amount of care that they're getting at the moment.
"A care package of 17 and a half hours is being reduced down to around eight or nine hours. The person is worried whether or not they're going to be able to have someone to help them get out of bed in the morning," she said.
Sue Bott, chief executive of the National Council for Independent Living (NCIL), said there was a "crisis" in social care.
"My great fear is that, years and years ago, we got people out of residential care into the community," she said.
"My real fear is what we are going to end up now is with people being institutionalised in their own homes because they will only have enough funding to do the absolute basics of toiletting, feeding and getting in and out of bed. And there will not be the resources for anything else."
But Jeff Jerome, national director of Social Care Transformation, said there was no reason a council would use the change of mechanism to allocate resources to individuals differently.
"Councils have got to pay attention to the resources that they have available to them for every individual and they should assess every individual's needs fairly and equitably in an open way and say this is what we think you are entitled to because of your own needs.
"And whether that's given to them as a service or a pound sign, shouldn't make any difference. It still should be an open transparent and fair way of telling people what they're entitled to," he said.
You and Yours was broadcast at 1200 GMT on Radio 4 on 3 December. Listen again at BBC iPlayer.