Heartbreak as England's 2018 World Cup dream ends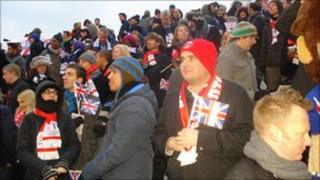 The weather and football - two of Britain's great obsessions - converged in dramatic fashion on the banks of the River Thames on Thursday as hundreds of fans braved the cold to share a moment of sporting history.
England's bid to host the 2018 World Cup had taken years of planning and lobbying, not to mention several twists, and for many the climax was too irresistible to miss.
But the announcement from Zurich, when it came, was crushingly brief.
The open-air auditorium next to London's City Hall echoed with a collective groan as the crowd watching proceedings on a giant television screen heard Fifa president Sepp Blatter announce that Russia would be hosting the 21st World Cup.
After hours standing in the bitter cold, most had disbelief frozen on their faces and could not wait to leave.
Oliver Harper, 29, a commercial manager at a drinks firm, said: "It's just really disappointing, I'm gutted. I'm not sure we'll ever get to host it now, maybe not in our lifetime."
His partner Ruth Buswell, also 29, added: "I thought we had a really good chance, I guess we threw all the big guns at it with David Beckham, the prime minister, and Prince William, but it hasn't come off. It's a shame, we gave it our best shot."
She said it was unclear whether allegations raised in a BBC Panorama documentary that three members of Fifa's executive committee took bribes in the 1990s would have affected the outcome.
But she criticised the timing of the broadcast, just days before the announcement.
'Terrible day'
Painter and decorator Kane Reid, 23, from east London, said he was "heartbroken" and would be in his 40s before England had another opportunity to bid.
While editorial assistant Madison Hughes said she felt particularly crushed as she had begun to feel a real sense of unity as the whole of the country got behind the bid.
For Sydney-born student Mike Dehaan, 19, the day was a double blow. He watched his first team, England, lose out to Russia, only to find out his second team, Australia, had been beaten by Qatar in the race to host the 2022 World Cup.
The student said: "I'm gutted, it's a terrible day, I'm going to go and drink my sorrows away tonight.
"I've never been to a World Cup, it would have been the epitome of my football experience."
England's failure to clinch the deal produced a sad end to a day that promised so much.
The crowd of several hundred had been quietly optimistic as they trickled in after hearing about the big-screen venue from the local media, social networking sites or simply by walking past.
Soccer AM presenter Max Rushden joked as he warmed up the expectant crowd, before introducing beat boxers, football freestylers and dancers.
The 2018 bid team, which organised the event, said they wanted to highlight the role the capital had played as one of the 11 prospective host cities.
Big-screen events were also held in Manchester and Birmingham city centres.
The fans' optimistic outlook was shared by the official ambassadors for the bid, including former and current players Peter Crouch, David Ginola and Dion Dublin.
Dublin told the BBC: "The country has some of the best stadiums in the world, the supporters are great, I can't see any negatives, 2018 deserves to be in England.
"I really do honestly feel that we're going to get it this time, I've got a feeling in my bones I really feel good about it."
Several fans said they had been lifted by the momentum of the last few days, as the so-called three lions, Beckham, Cameron and Prince William, worked hard to lobby Fifa officials in Switzerland.
Mr Cameron had flown to Zurich twice this week, only breaking from the campaign to attend prime minister's questions back in the UK.
But in the end it was too little too late and, as the frozen crowds dispersed, many pondered how it all went wrong. They will not be the only ones.