UK forces to get Christmas charity box surprise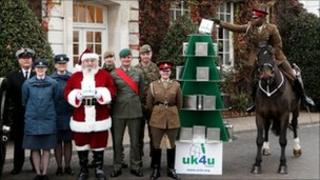 More than 22,500 members of the UK's Armed Forces will each get a surprise on Christmas Day, with the launch of a campaign to send charity boxes filled with festive gifts to overseas troops.
The annual Christmas box campaign, run by the charity uk4u Thanks!, sends a box that has become known as a "square stocking" to every member of the Army, Royal Air Force and Royal Navy serving abroad or in hospital over Christmas.
The launch, at St John's Wood Barracks in north London - home of the King's Troop Royal Horse Artillery - saw the final box placed on top of a Christmas tree, representing the official start of this year's campaign.
The metal boxes, each around the size of a ration pack, make their way across the world, to soldiers, sailors and air-personnel serving everywhere from Afghanistan and the Falkland Islands, to Diego Garcia and Iraq.
The contents of this year's box remain a surprise until Christmas Day, but previous years have seen service personnel receive gifts ranging from practical items such as head-torches and sewing kits, to juggling balls and tea-bags, as well as the most popular present of all - a bright red Santa hat.
Lance Corporal Steven Turner, 28, from Stoke-on-Trent, was given a Christmas box last year when he was serving in the Grenadier Guards in Helmand Province in southern Afghanistan.
"We were all in the patrol base and all the lads were excited because it was Christmas Day anyway, and then all of a sudden they brought out these boxes," he said.
"We were chuffed to bits with them. It was a great morale booster. We'd been in that patrol base for months, and the stuff in the boxes was great."
The Christmas box appeal was inspired by the gesture in 1914 by Princess Mary, the 17-year-old daughter of King George, who had the idea of presenting a gift from the nation for everyone wearing the King's uniform and serving overseas on Christmas Day.
During World War I, the boxes contained tobacco, a lighter, a bullet pencil and sweets.
Since 2004, the forces charity uk4u Thanks! has raised money and sponsorship throughout the year to provide the boxes to let Armed Forces personnel know that those back at home are thinking of them over Christmas.
Members of the public are being urged to donate to service support charities, rather than send their own packages to those serving on the front-lines.
With little time ahead of the deadline - 3 December 2010 - for families to send post for their loved ones serving abroad at Christmas, unsolicited mail - often addressed to "a soldier" - can delay personal mail and presents.
In the lead-up to Christmas, those at the British Forces Post Office in Northolt, west London, and in Kandahar and Helmand in Afghanistan work around the clock to make sure that mail from families gets through.
''All the staff throughout the British Forces Post Office network worldwide are focused on the particular challenges of getting personal mail through at Christmas.
"This is particularly important where it concerns service personnel deployed on operations, not least because of the often acute difficulties of reaching individuals in some very inaccessible locations," said Brigadier Russell Beattie, head of the British Forces Post Office.
''Whilst the sentiment behind the public wishing to send welfare parcels is gratefully acknowledged, it is far better that they donate to established service charities, as they can focus support directly to areas of greatest need.''
The MoD recommends that instead of sending unsolicited gifts, donations should be made to forces charities, including The Soldiers, Sailors, Airmen and Families Association (SSAFA) Operational Welfare Fund, uk4u Thanks! Christmas Box Scheme, Support Our Soldiers, and Thank The Forces.
Those wishing to donate to the Christmas Box campaign can do so at www.uk4u.org.