Parliament Square protest rules to be reformed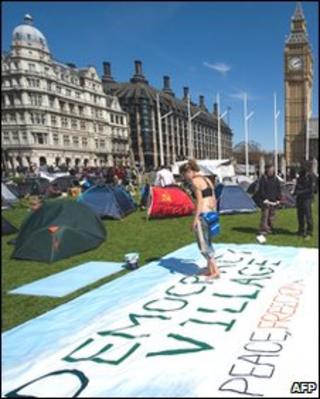 The government is to ban permanent protest camps from Parliament Square - but says it will also repeal rules restricting ordinary demonstrations.
The measures are included in the Police Reform and Social Responsibility Bill published on Tuesday.
The reforms are unlikely to be in force before next year's Royal Wedding.
Ministers want to remove a long-standing anti-war camp from the square before the wedding - but it is not clear yet how that will happen.
Talks on how to break-up what remains of the protest camp are continuing between police, the Home Office and officials from both Westminster City Council and the Greater London Authority.
The previous government introduced legislation to severely limit the right to protest on the square and in the gardens opposite Parliament.
But Brian Haw, the leader of the protest camp, successfully avoided being removed, even though the law had been largely aimed at stopping his activities.
Under the new proposals in the Police Reform and Social Responsibility Bill, the coalition government would repeal the restrictions on ordinary protests and introduce limits on how future demonstrations could be conducted.
In effect, this would mean Parliament Square would be treated virtually the same as any other location used for a demonstration - but police would have the power to stop protesters from erecting tents or other structures so they could stay overnight.
Police would also be given the power to remove loud hailers unless a protester had been given prior approval to use them.
Royal deadline
Last month Prime Minister David Cameron said he wanted "get this sorted out" before Prince William and Kate Middleton marry at Westminster Abbey on 29 April 2011.
Unveiling the plans, Home Secretary Theresa May said: "We're restoring rights to non-violent protest and taking powers to ensure Parliament Square, and the area around Parliament Square, is free from tents and other such encampments and structures that we've been seeing over recent years."
And referring to the Royal Wedding she said: "As to the need to clear Parliament Square, in particular 
for a certain event next April, it is our intention that Parliament Square will be clear by then."
Many MPs regard the protest encampment as an eyesore, health risk and a national embarrassment, given how many tourists pass by.
In July, bailiffs sealed off Parliament Square after the Mayor of London won an eviction order against the expanding camp on the grass.
But in a legal twist, some of the protesters dodged eviction by moving from the grass and onto the pavement because that could not covered by the eviction order.
Mr Haw, who has spent more than 3,000 days protesting in front of Parliament since 2001, recently left the camp to receive treatment for a tumour.