More disclosures from Wikileaks in the papers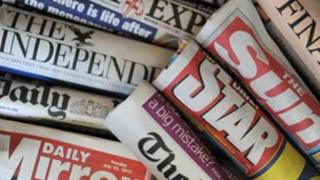 The Wikileaks revelations about classified diplomatic cables keep on coming in the newspapers.
The Times says the website details how the UK government promised to "limit the scope of the Iraq war inquiry" to protect American interests.
The Guardian says other leaked communiques suggest the governor of the Bank of England expressed doubts about David Cameron and George Osborne before the election.
Mervyn King reportedly told the US ambassador he was worried about their "lack of economic experience".
The Daily Telegraph says former US vice-presidential candidate Sarah Palin has called for Wikileaks founder Julian Assange to be hunted with the same urgency used to pursue al-Qaeda and the Taliban.
Mrs Palin is said to have used her Facebook page to describe him as "an anti-American operative with blood on his hands".
The Telegraph warns of a "university education apartheid" after the Welsh Assembly decided to subsidise higher education for students from Wales.
"Punished for being English" is the Daily Mail's headline on the same story.
It quotes the TaxPayers' Alliance as saying it is "completely unfair" English taxpayers should be asked to fund degrees for Welsh undergraduates.
Changes to the MPs' expenses culture have resulted in more than 1,500 claims being rejected, according to the Times.
Under the headline "Carry on claiming", it reveals how some MPs have asked to be reimbursed for first-class travel.
Several papers are distinctly unimpressed with a Lincolnshire teacher who wrote a school report littered with spelling mistakes and errors.
It including "evening" spelt "everning", "you" instead of "your" and missing or misplaced apostrophes.
"Must try harder" is The Sun's damning verdict.
The Plain English Campaign tells the Mail teachers who make such basic errors "should wear their own dunces' hats".