Wikileaks cable claims UK 'pledged to limit Iraq probe'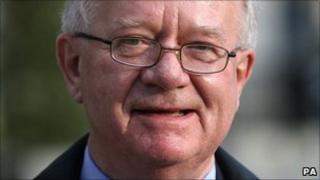 The government secretly promised to limit the scope of the Iraq war inquiry to protect US interests, according to leaked cables reported in the Times.
The documents on the Wikileaks website could undermine the Chilcot inquiry into the Iraq war, the newspaper says.
The dispatch says senior UK officials also warned the US that Iraq would attract a "feeding frenzy" of interest in the UK "when the inquiry takes off".
The latest cable from the whistle-blowing website is from September 2009.
It came before the inquiry began in November 2009 into the lead-up to, execution of, and fallout from the Iraq war.
That month Liberal Democrat leader Nick Clegg accused the then Labour government of "suffocating" the Iraq inquiry with guidance on what could go into inquiry chairman Sir John Chilcot's report.
He told MPs in the Commons that a protocol issued by ministers listed nine reasons why information could be suppressed "most of which have nothing to do with national security".
The prime minister at the time, Gordon Brown, said it was up to Sir John what information he published and he had been "given the freedom to conduct the inquiry in the way he wants".
Protocol agreed
The cable now leaked by Wikileaks, says the former director general for security at the Ministry of Defence Jon Day told US officials "the UK had put measures in place to protect (US) interests during the UK inquiry into the causes of the Iraq war".
The cable containing the information is one of almost 300 cable messages Wikileaks has published, from the 251,287 it says it has obtained.
All of the messages have also been made available to five publications, including the Guardian newspaper.
Reacting to the latest revelation, the Ministry of Defence said in a statement: "We would not normally comment on leaked documents."
A spokesperson for the Iraq Inquiry said: "The Iraq Inquiry is independent of the British government.
"The Protocol agreed between the Iraq Inquiry and the government, allows for material to be withheld from publication if publication would damage international relations or breach the third party rule governing non-disclosure of intelligence material."