MoD signs deal to replace Snatch vehicle with Foxhound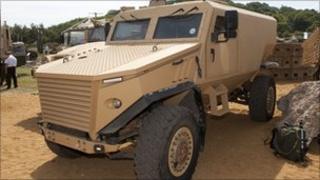 The Ministry of Defence has signed a £180m contract for 200 new patrol vehicles to replace the controversial Snatch Land Rover.
The Foxhound, partly designed by Formula 1 engineers, has a V-shaped armoured hull designed to safeguard those inside from roadside bombs.
There have been criticisms the Snatch has not offered enough protection to UK troops in Afghanistan and Iraq.
The new vehicles are due to be ready for troop training next year.
They were designed by Warwickshire-based Force Protection Europe and Ricardo, a British automotive engineering company, and originally named the Ocelot.
They have been renamed Foxhound by the MoD.
Adaptable
At least 37 UK soldiers have died in Iraq and Afghanistan while travelling in the lightly armoured Snatch; its vulnerability led some soldiers to call it the "mobile coffin".
The Chief of Defence Materiel, Gen Sir Kevin O'Donoghue, said its replacement had been specifically designed to withstand the kind of explosions caused by Taliban bombs.
"Able to operate in extreme temperatures and navigate difficult terrain whilst also providing high levels of protection, Foxhound is ideal for current operational needs, but is also a valuable addition to our range of vehicles and will serve our Armed Forces for many years to come," he added.
The Foxhound can be easily dismantled if need be and its engine removed and replaced in only 30 minutes.
It also adaptable - the pod where up to six people can sit can be changed, turning the vehicle into an ambulance or supply truck if required.
Its wheels work independently of each other, meaning it can still drive away from an ambush if one is disabled.
Defence Equipment and Support Minister Peter Luff said: "Using state-of-the-art technology from a range of areas including the motorsport industry, this UK-designed vehicle demonstrates the government's commitment to providing our troops with the world class equipment they need.
"The jobs created and sustained through the manufacture of the Foxhound will also provide a boost to local economies across the UK."
The engineers behind the Foxhound come from a range of backgrounds, including the World Rally Championship, McLaren F1 and BMW.