UK 'complicit in al-Qaeda man's torture'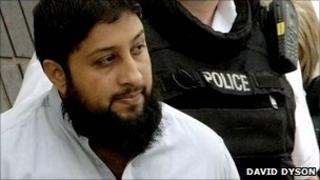 A man convicted of serious terrorism offences in the UK has launched an appeal, telling judges the UK was complicit in his torture abroad.
Rangzieb Ahmed, 34, from Greater Manchester, says he was unlawfully held in Pakistan, beaten and had fingernails removed, the Court of Appeal heard.
Ahmed was convicted of membership of al-Qaeda and directing terrorism.
But his lawyers said Britain's complicity in his torture in Pakistan meant his conviction should be quashed.
Ahmed, from Rochdale, was jailed for life in 2008 after a lengthy investigation into a network of extremists stretching from Manchester to Pakistan.
He was accused of playing a crucial role in linking British al-Qaeda sympathisers with commanders overseas. But prior to his return to the UK to face trial, he was held for more than a year in Pakistan.
The Court of Appeal heard the CIA was present when he was arrested and US agents visited him regularly during his 13-month detention.
Joel Bennathan QC, for Ahmed, told the court his client was beaten and had three of his fingernails pulled out with pliers over the course of three days.
He said he was visited once by British intelligence officials but they failed to return after he told them of his treatment.
'Notorious record'
"We say the UK was complicit in these acts," said Mr Bennathan, who said the questioning related to his client's activities in England.
Mr Bennathan said the UK was complicit in torture because it had worked with Pakistan's secret service, despite knowing of its notorious record on treatment of detainees.
Such alleged unlawful complicity meant Ahmed's convictions should be quashed, he said.
The trial judge in Manchester had refused to halt the prosecution, saying there was no evidence British intelligence officers had been involved in an abuse of process.
But Mr Bennathan told Lord Justice Hughes, Mr Justice Owen and Mrs Justice Thirlwall that decision had been wrong.
The jury at Ahmed's trial in Manchester had heard allegations of torture. But the full claims of complicity only emerged later in the House of Commons. David Davis, the former shadow home secretary, used Parliamentary privilege to accuse the security services of outsourcing torture.
He told MPs Greater Manchester Police had sufficient evidence to arrest Ahmed before he left the UK but allowed him to leave.
'Passive rendition'
He went on to allege British intelligence officers had suggested to their Pakistani counterparts they arrest Ahmed and had supplied questions for interrogation.
"A more obvious case of outsourcing of torture, a more obvious case of passive rendition, I cannot imagine," Mr Davis told MPs.
Ahmed's lawyers have not repeated in open court the allegation the UK tipped off Pakistani authorities. But asked to define various examples of complicity, Mr Bennathan said: "To tell them that there's someone in Pakistan that they may want to arrest is complicity."
The appeal comes after the government paid out millions in an out-of-court settlement to men who were held at Guantanamo Bay. The 16 men, some of whom were suing the government, had alleged complicity in their detention and ill-treatment by US secret services.
Ahmed's associate, Habib Ahmed (no relation), is also appealing against conviction. The appeal is expected to last four days.