Student fees protests: Sit-ins continue through weekend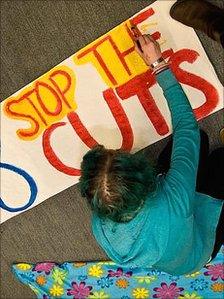 Students at several universities are continuing sit-in protests over plans to raise the cap on tuition fees and cut higher education funding.
Twelve occupations reportedly on-going on Sunday included those at Plymouth, Leeds, Cambridge, Newcastle, Edinburgh and University College London.
Students are angry at government plans to allow institutions to almost treble fees to a maximum £9,000 per year.
Ministers plan to press ahead with a vote on the issue before Christmas.
Universities Minister David Willetts told Sky News this would allow prospective students to plan next year for any increase in fees, which would take effect in 2012.
Mass protests have taken place in several cities since the plans were announced and further marches are due this week.
Much of the anger has been aimed at the Liberal Democrats, who before the election had pledged to oppose any rise.
However, Mr Willetts said the Lib Dem Business Secretary Vince Cable was now "personally committed" to lifting the cap.
Party leader Nick Clegg has said his MPs are considering abstaining on the measure, in line with the terms of coalition agreement.
Mr Willetts said he hoped there would be no repeat of violence which has flared among sections of the crowd at previous demonstrations in London.
"Students have absolutely the right to peaceful protest, it's a free country, I just absolutely urge them not to turn to violence," he said.
About 20 students at Plymouth are into their sixth day of occupation of one room.
Their demands include for the university to condemn the higher education cuts and oppose higher tuition fees, to protect staff jobs and reflect any rise in fees in bursaries or hardship funds.
Among them is history of politics student, Anthony Walsh, 20, who said the group had been brought provisions by fellow students and had kept themselves entertained with live music and debates.
"It's still going very strong and we want to continue as long as we have to," he said.
Around 50 students have occupied a building at University College London, with more attending to see public speakers and musicians during the day.
Meanwhile, Cambridge Defend Education said nearly 200 students were taking part in an occupation of the Old Schools administrative headquarters at the university.
One of them, Sally Jefferson, said: "We're inspired by the solidarity we've received from academics, students at other universities and local residents."
Some 100 students in Leeds have pledged to remain in a lecture theatre until at least Tuesday.
Students at London's South Bank University ended their protest on Friday, after occupying the language centre for 51 hours.
Students have occupied at a lecture theatre at Manchester University's Roscoe Building and say they plan to stay indefinitely.
An occupation at the University of the West of England in Bristol is in its seventh day since about 50 students set up camp in a space at the centre of the university's main campus, Frenchay.
A spokesman for the students said: "We have taken this space through direct action because none of our elected representatives seem to be doing anything to oppose these unnecessary cuts."
Meanwhile, policing minister Nick Herbert has defended officers' use of "kettling" tactics - where police surround protesters and prevent them from leaving - during last week's protests.
While accepting innocent people had been caught up in events, he told Sky News the containment method was needed to stop a hardened group of troublemakers "running rampage through the streets".
Conservative co-chairman Baroness Warsi has also written to Labour leader Ed Miliband, calling on him to take action against MP John McDonnell.
She says the MP suggested in the media that he was involved in a "programme of resistance' which included "the potential incitement of rioting".