No let-up in big freeze across UK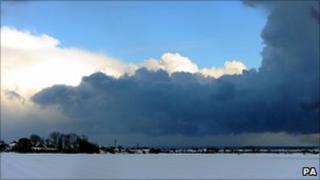 Wintry weather will grip parts of the UK for nearly a week as snow spreads eastwards, forecasters have warned.
Up to 40cms (16in) fell in parts of north-east England and Scotland on Saturday - with more to come overnight and on Sunday.
It was said to be the most widespread snow at this time of year since 1993.
In south Wales, an RAF helicopter carrying two people rescued from the Brecon Beacons was prevented from landing at three hospitals by the snow.
It eventually touched down at a fourth in Swansea.
There was also snow across the West Midlands and Cornwall amid freezing conditions.
Temperatures early on Sunday are expected to drop below zero across the UK, with minus 7C quite common.
Forecasters say there will be a problem with wind making it feel colder and lead to a new hazard of snowdrifts. The cold spell will also last well into next week.
Met Office severe weather warnings for heavy snow remain in place for many parts of Scotland, Northern Ireland, north east England, and Yorkshire and Humber.
BBC forecaster Peter Gibbs said there would be more heavy snow in north-east England and eastern and southern Scotland, and this snow would start to drift.
"It is likely enough to cause problems, not helped by the fact that winds are strengthening over Scotland. Snow will start to drift," he said.
Elsewhere across the UK, frost and ice would make driving dangerous, he added.
"There will be no sign of a let-up right into next week, with the eastern side of the UK continuing to get the worst of it. There will be a bitter easterly wind," he said.
"By Monday into Tuesday almost anywhere down the eastern side of the country could be seeing snow, possibly into the Midlands."
MeteoGroup forecaster Tom Tobler said: "People should be bracing themselves for more cold weather for the working week and beyond."
Motoring rescue service the AA said it had dealt with 10,400 breakdowns by Saturday afternoon and expected 15,000 by the end of the day - an 80% rise on a normal November Saturday.
A spokesman said a gritter got stuck in Middlesbrough, which was one of the worst affected areas, along with Northumbria, Newcastle, and Aberdeenshire.
In Sheffield, two people were injured in a four-vehicle pile-up on the M1. The accident closed all three lanes of the southbound carriageway between junctions 34 and 33, near the Tinsley viaduct.
The East of England Ambulance Service also reported a series of traffic accidents, with cars skidding off the road.
Spokesman Gary Sanderson said: "Remember your safety is paramount, drive safely and please take care over the weekend."
Away from the roads, Norwich, Inverness, Newcastle, Luton and Durham-Tees Valley airports all experienced disruption to flights.
In Jersey, a lightning strike disrupted radar equipment, also leading to flight problems.
Several sporting events were cancelled, including race meetings and the FA Cup second round fixtures Hartlepool United v Yeovil Town and Notts County v Bournemouth.
Several football matches in Scotland, including Sunday's Alba Cup final, were called off.
Newcastle United have drafted in extra staff to try to ensure Sunday's clash with Chelsea goes ahead.
The unusual weather is being caused by high pressure over Greenland and low pressure in the Baltics, forcing cold winds from the north-east across Europe.
The enhanced content on this page requires Javascript and Flash Player 9
Map Key
Land
Cloud
Lakes, Rivers & Sea
Fog
Light
Heavy
Frost
Light
Heavy
Pressure Fronts
Cold
Warm
Occluded
Rain
Light
Heavy
Extreme
Snow
Light
Heavy
Temperature tab only
Temperature (°C)
More details from BBC Weather