Celebrate Christian Christmas, council 'Grinches' told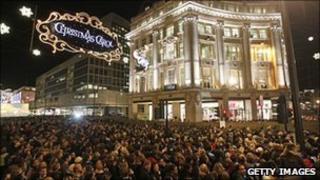 Councils are being urged to celebrate the "Christian basis" of Christmas.
Communities Secretary Eric Pickles said "politically correct Grinches" should not be allowed to obscure the fact the festival marks Christ's birth.
He said festivals like "Winterval" - which combined secular and inter-faith elements in 1990s Birmingham - should be consigned to history's "dustbin".
It was not in authorities' interests to "play Scrooge" by cutting back on festivities to save cash, he added.
Instead, he encouraged them to draw shoppers in to town centres and enjoy the financial benefits of packed car parks.
"Shoppers want to see Christmas lights, Christmas trees, carol services and nativity scenes, and councils should not hesitate in supporting them," he said.
"We should actively celebrate the Christian basis of Christmas, and not allow politically correct Grinches to marginalise Christianity and the importance of the birth of Christ.
"The war on Christmas is over, and the likes of Winterval, [and other alternative names for Christmas festivities] Winter Lights and Luminous deserve to be in the dustbin of history."