Newspaper review: student protests still dominate pages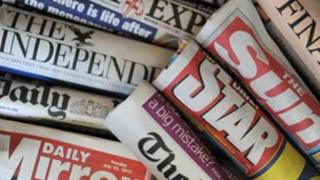 It was a week full of student protests against higher tuition fees, but the papers show the issue is far from over.
The Guardian says the Metropolitan Police is facing growing criticism over its handling of Wednesday's demonstration in London's Trafalgar Square.
The paper says video footage has emerged which disputes Scotland Yard's denial that officers on horseback charged into a crowd of protesters.
In the Daily Telegraph, the paper's Peter Oborne says the students' cause is "genuine".
He calls the students "the new radicals", and argues the students had been stripped of what had previously been regarded as a right - free university education.
'Squeezed middle'
According to the Daily Telegraph, former prime minister Sir John Major believes the Tories and Lib Dems should prolong their "temporary alliance".
He said wanted to see it continue beyond the next general election.
Labour leader Ed Miliband's pledge to target "a squeezed middle" without explaining what this is has inspired the Times to create a game to find out.
Readers can answer questions to find out if they're A) a middle earner; B) squeezed middle; or C) confused.
The Daily Mail warns of government panic as website Wikileaks prepares to publish revelations about the UK's "special relationship" with the US.
The Independent's Jerome Taylor says cables between an embassy and its government are the diplomatic equivalent of "dirty linen" and will make uncomfortable reading.
'Beautiful snow'
Meanwhile, all of the papers comment on the death of the man the Sun calls "the turkey king" - Bernard Matthews.
The tycoon created the onetime school lunch staple - the turkey twizzler.
The winter weather also dominates the pages, with the Daily Mirror warning the freezing temperatures will last between 10 and 15 days.
But an editorial in the Times asks that we think of snow not as a "burden", but as a thing of beauty, which we should enjoy.
The Daily Express prints a picture taken at Loch Ness asking if it is proof there is a "monster" in the lake.
Richard Preston is convinced the four "humps" he saw belonged to Nessie.