Railway firms who put up prices blamed for delays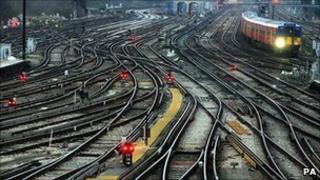 Train firms behind some of largest ticket price rises have been among the worst recent performers, infrastructure operator Network Rail says.
Nearly 17% of trains were late on Southeastern, which is putting up some season tickets by 12% in January.
Punctuality at Southern, which put season tickets up by nearly 7.7%, fell 6.6% to 83.1% of trains.
Figures for mid-October to mid-November show overall punctuality in Britain dipped 4.8% on the same time last year.
The data showed punctuality over the whole network for the period 17 October to 13 November was 86.3%.
Only one of the 19 train companies - London Overground - had better figures.
The worst performer was Northern Rail which saw punctuality fall 5.6% to 81.8%.
A blip?
Network Rail operations and customer services director Robin Gisby said: "The railway has made great strides in reducing the impact of the autumn weather over the past decade, but the start of this year's (autumn) has been difficult, resulting in disappointing train punctuality.
"The industry has invested heavily, some £30m, in technology and techniques targeted at lessening the impact of autumn. We aim to deliver much better performance in the weeks ahead."
The Association of Train Operating Companies said while year-on-year performance fell "punctuality remained amongst the highest on record for this time of the year".
Anthony Smith from customer watchdog Passenger Focus, said: "Passengers tell us that performance is the key driver of passenger satisfaction, so we hope these figures are a blip and performance soon starts to head back in the right direction."