Queen tries hand at art curating on state visit to Oman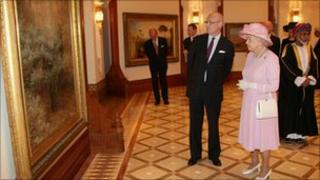 The Queen revealed her interest in horse paintings as she showed the Sultan of Oman around a viewing of priceless British artworks.
Six pictures have been loaned by the Tate to Sultan Qaboos' Al-Alam palace in the Omani capital of Muscat.
They represent British landscape painting over the past 250 years and include works by Gainsborough, Constable and Turner.
It came as the Queen continued her state visit to the Gulf.
The royal party, accompanied by Foreign Secretary William Hague, started their five-day visit on Wednesday in Abu Dhabi and arrived in Oman on Thursday.
It was the picture of horses by George Stubbs, best known for his anatomically correct studies of the animals, which made the greatest impression.
Works by Millais and Singer Sargent make up the collection.
Sir Nicholas Serota, director of the Tate, was also present as the Queen, Duke of Edinburgh and the Sultan viewed the pictures, which will go on public display until the new year.
Promoting relationships
The Stubbs picture showed mares and foals against a landscape backdrop.
As the Queen turned to the Sultan, she said: "You know they always painted their front legs out and their back legs out."
Sir Nicholas said after the viewing: "The Queen, because of her familiarity with the Royal Collection and Stubbs, was explaining he was the first to paint the horses in a naturalistic way."
He added: "To show the Omanis a group of British landscapes painted over the last 250 years is a very important way of promoting the relationship between our two countries."
Earlier the Queen received an official welcome from the Sandhurst-educated Sultan and his people.
The monarch is in the region as part of government moves to renew the UK's relationship with the Gulf Arab states.