Obituary: Bernard Matthews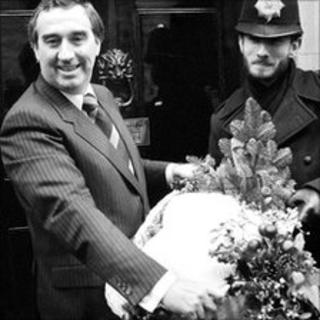 Bernard Matthews became famous for his "bootiful" catchphrase which saw him describe his products in a rich Norfolk accent in 1980s television adverts.
The turkey tycoon began his multi-million pound business in 1950 with just 20 eggs and a second-hand incubator bought from a market in Acle, Norfolk.
Just 12 hatchlings from the initial batch of eggs survived, but he managed to sell them for £9.
Two years later he was producing 3,000 turkey eggs at his home and decided to leave his insurance job and move into poultry farming full-time.
He and his wife, Joyce, bought a dilapidated mansion, Great Witchingham Hall, three years later, which is still the headquarters of the company. It was often shown in television adverts.
Within 10 years it became the biggest turkey processor in Europe and brought cheap meat to the tables of the masses.
Matthews told the BBC: "When I started the price of turkey was extremely expensive for the ordinary person. To put it in perspective there were less than one million turkeys being produced in England in 1950 when I began, and in those days a man had to work for a week, the whole of a week's wages to pay for a turkey for Christmas.
"Today, it only takes two hours of his working time to be able to buy one."
But his entrepreneurial spirit failed to impress animal welfare campaigners who criticised his "factory farming" methods which saw thousands of birds reared in large sheds.
Difficult times
The company had recently returned to profit after some difficult years, which included jobs cuts and an outbreak of bird flu.
In 2005 celebrity chef Jamie Oliver singled out the company's Turkey Twizzlers for criticism over their fat content in a series promoting healthier eating for children.
Twizzlers became infamous, with many schools removing them from dinner menus and Matthews' operating profits fell in the wake of the campaign.
A year later, the company hit the headlines again after a court heard how two Bernard Matthews' workers were filmed playing "baseball" with live turkeys.
Both men admitted ill-treating birds at a Bernard Matthews unit in Haveringland, Norfolk, during a hearing before magistrates in Norwich.
Animal welfare groups called for an inquiry after the men's lawyer told the court they were influenced by "peer pressure" at the factory and were part of a "culture" of behaviour.
There was more bad news in February 2007 when the H5N1 strain of bird flu was identified for the first time at a Bernard Matthews' plant at Holton, Suffolk. Nearly 160,000 birds were killed and sales dropped by £64m.
The outbreak was blamed on the importation of turkeys from Hungary.
The company was rebranded in July 2008 as Bernard Matthews Farms and stated that all its turkey products would be made with British turkey from its own farms.
The son of a mechanic, Matthews was born in Brooke, Norfolk, in 1930 and left school at 16.
He was a founder Charter Member of the Duke of Edinburgh's Award Scheme and helped support many other charitable causes, including the independent Caister Lifeboat and the Nelson Museum in Great Yarmouth.
To the end Matthews retained an iron grip on the company, fiercely defending the intensive production methods which had made him a multi-millionaire.
He retired as chairman of the company in January, a move which coincided with his 80th birthday.