London 2012 Olympics: Housing legacy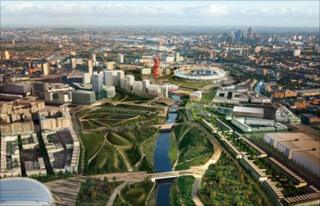 The creation of "a vibrant new piece of London" is a key aim of the ambitious legacy planned for the 2012 Olympic Games.
Eleven thousand new homes are planned within the Olympic Park, around a third of which are currently earmarked as "affordable".
Regeneration of the surrounding area - one of the most deprived in Britain - is another core goal.
Waiting lists in each of the five Olympic boroughs run into thousands of households, with Newham, site of the Olympic Park, the most in need, according to housing charity Shelter.
However, experts have warned that there are many difficulties to overcome to create an area which is at once attractive to private developers but within the financial reach of local people, especially as the Housing Benefit cap, due to start in January 2012, begins to take effect.
Click through the tabs above to explore the issue.
In the first, Baroness Margaret Ford, Chair of the Olympic Park Legacy Company, sets out her vision for the Park's housing plans.
Penny Bernstock, from the University of East London, analyses some of the challenges ahead and local resident Kelly Tapping spells out why she dreams of a future home for her family on the Olympic Park.