Net immigration to UK increases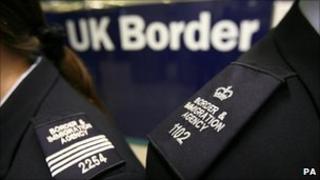 Net migration to the UK rose in the year to March 2010 because fewer British people left the country, according to the latest estimates.
The figures indicate 215,000 more people came to live in the UK than moved to another country.
The Office for National Statistics figures come days after the government outlined its plans to cap immigration.
Ministers want to reduce net migration to "tens of thousands" a year by 2015.
The plan currently involves cutting the number of visas available to skilled workers from outside Europe - although ministerial advisers say the target cannot be met by just targeting workers.
According to the latest ONS data, an estimated 580,000 people arrived in the UK as long-term migrants in the year to March 2010, broadly consistent with the long-term trend. Approximately 15% of those arriving were British citizens who had been living abroad.
Over the same period, an estimated 364,000 people left the UK - continuing a downward trend since December 2008. Since the end of that year, the number of British people estimated to have left the UK has fallen by 28%, says the ONS.
The figures also indicate that while there was a slight fall in the number of work-related visas being issued, the number of students arriving from outside the European Economic Area (the EU and a handful of other countries) rose significantly.
In total, 355,000 student visas were issued in the year to September 2010, about 16% higher than in the previous 12 months.
System 'abused'
Earlier this week, Home Secretary Theresa May outlined her plans for the government's first immigration cap, to be imposed from April 2011.
That cap would be set at about 21,700 skilled workers from outside the European Union. That figure does not include employees earning more than £40,000 who are moved by their companies into the UK for more than a year.
The government also cannot control the number of workers arriving from inside the EEA. European citizens currently make up about a third of all those who come to live in the UK.
Mrs May said that she wanted to soon launch a consultation on restricting the number of students able to come into the country, saying that many were abusing the system, using it as a route to work, rather than to learn.
However, it is not clear which students would be targeted and whether the Liberal Democrats are signed up to the proposals.