Domestic violence suspects face being banned from home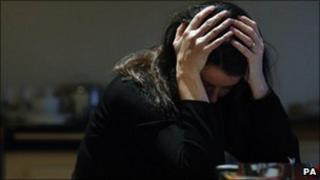 People suspected of abusing a partner could be banned from their homes for up to four weeks under government plans to tackle domestic violence.
The proposed "go orders" could be used even if there was not enough evidence to charge a suspect.
A year-long pilot scheme will start next summer in the Greater Manchester, Wiltshire and West Mercia police areas.
The idea was first put forward by the previous government and Labour welcomed the introduction of the initiative.
Shadow home secretary Ed Balls said: "These orders have been proven to work in other countries and would give the police the extra powers they need to protect the victims of domestic abuse."
A Home Office spokeswoman said if it was deemed successful by an impactment assessment it would be rolled out across England and Wales.
It is not clear if Scotland and Northern Ireland would follow suit.
Home Secretary Theresa May, who will announce the proposals later, said: "Domestic violence is an appalling crime which sees two women a week die at the hands of their partners, while millions more suffer years of abuse in their own homes.
"These new powers will allow the police to step in when the victims are most vulnerable to give them vital space and time, which could ultimately save their lives."
Under the plans, the police would be able to stop suspects having contact with an alleged domestic violence victim for 48 hours - and that could be extended by a court to between 14 and 28 days.
The Home Office said similar initiatives in Austria, Germany, Poland and Switzerland had been a success.
British Crime Survey figures suggest more than one in four women in the UK will experience domestic abuse at some point in their life.
Deputy Chief Constable Carmel Napier, the lead on domestic abuse for the Association of Chief Police Officers, said domestic violence was an "enormous issue".
She said: "The orders will assist police in doing all we can to protect victims of domestic abuse and give victims the necessary breathing space to make informed decisions about their long-term safety, and that of their children, without the immediate fear of threat or further harm."