UK troops 'to leave Iraq in May'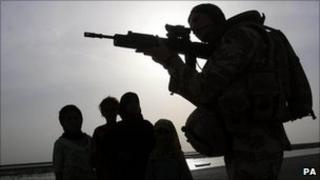 The majority of the remaining 150 British troops in Iraq will return home next spring, military chiefs have said.
More than 100 UK sailors who have been training the Iraqi navy in the southern port of Umm Qasr will withdraw in May 2011, a military spokesman said.
He said it was his understanding that the decision to withdraw was not related to last month's defence cuts.
A small number of UK personnel will remain in Iraq to help train its army officers as part of a Nato mission.
Oil terminals
Most British forces were pulled out of the country in May 2009.
Military spokesman Maj Gen Lorimer said the small Royal Navy team in Umm Qasr was expected to have completed its training of the Iraqi navy by May 2011.
By then, they would have spent an additional six months on the training mission - a period of time agreed by Iraq's council of ministers on 10 November.
Umm Qasr in Basra province is Iraq's only deep water port and receives 80% of the nation's grain supply.
It is also the Iraqi navy's base from which it protects the country's two oil terminals out in the Persian Gulf.
The total number of UK troops killed in operations in Iraq since the invasion of March 2003 stands at 179.