Policy Exchange calls for community sentences overhaul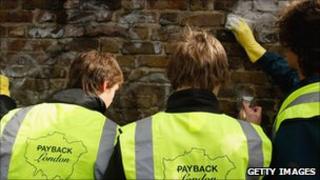 The government has been urged to overhaul community sentences in England and Wales to place the emphasis on intensive physical labour.
A survey by right-leaning think tank Policy Exchange found that 60% of 2,000 people polled thought the sentences were "soft" or "weak".
The think tank said community sentences were flawed and should be replaced by more punitive "work orders".
The Ministry of Justice said proposals would be published soon.
The Policy Exchange said in a report that the community payback scheme - the toughest type of order - often involved charity shop work and serving tea at luncheon clubs.
Report author Robert Kaye called for community sentences to be focused on punishment and to be "radically reformed to improve compliance and reduce reoffending".
He said: "Evidence shows that orders with a clear punishment element have lower reoffending rates."
Under his recommendations, offenders would be required to do hard, physical work that benefited the public such as cleaning off graffiti and building social housing.
And some offenders would be tagged and have to work five days a week, with benefits withdrawn if they did not comply.
Costume making
His report comes ahead of a government announcement on plans for changes to rehabilitation which could see less jail time and more community orders for offenders.
Victims' commissioner Louise Casey questioned whether making tea or costumes for the Notting Hill Carnival was sufficient punishment.
She said community sentences should be tough, intensive and visible to communities affected by the offenders' actions.
"It's as if the legal principle of punishment in sentencing is somehow unseemly - rather than a legitimate and correct response to those who step outside society's agreed rules," she said.
"To have the confidence of those who pass sentence, the public and of victims in particular, this must change."
A Ministry of Justice spokesman said: "We are looking at how private and voluntary sector providers can be involved in running community sentences to make them more rigorous, ensure proper compliance, and deliver better value for the taxpayer."
YouGov polled more than 2,000 adults online for the Policy Exchange survey.