Meredith Kercher killer Amanda Knox returns to court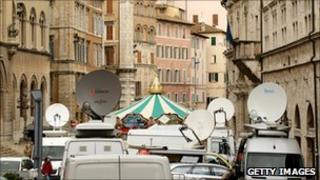 The appeal had a very familiar look to it. It's been a year since American Amanda Knox and her Italian boyfriend Raffaele Sollecito were convicted of the brutal killing of 21-year-old British student Meredith Kercher.
But with the accused, the lawyers, the courtroom, even the media exactly the same as before, it felt like going back in time.
Amanda Knox looked particularly glum. She appeared tired and stressed. Some onlookers felt she had lost weight. She didn't smile at her family or supporters - as she has done on previous court appearances.
Her stepfather, Chris Mellas, told me she is in good spirits, busying herself in jail by studying, reading and helping other non-Italian inmates, with their translations.
Mr Mellas says Amanda is optimistic about her appeal but no one wants to raise their hopes.
Those hopes were put on hold again today as the case was adjourned after doctors advised one of the lawyers, who is five months pregnant, not to make the two-and-a-half hour journey from Rome.
Nobody knew that was going to happen - but the news was in keeping with the unpredictable nature of this case. And timetable delays like this were one of the reasons the original trial lasted a year.
What we did get through this morning was the fixing of some dates for this appeal - there will be two hearings in December and one in January.
And although the appeal is Amanda Knox's right, it is still a high risk strategy.
That's because if she and Sollecito lose again, the prosecution might seek a full life term, not just the 26 and 25 years each was respectively given by the original trial judge.
So Amanda Knox's defence team have devised a three-pronged strategy to win her freedom.
First, the forensic evidence: the knife will be a key focus for Knox's defence team. The prosecution say it has traces of her DNA on it. The defence say the sample was too small to be reliable and so should be rejected.
Secondly, the alibi evidence will be restated: the defence will again argue the couple were at Sollecito's flat, not at Meredith Kercher's house when the Leeds University student died.
And lastly the defence will want to emphasise the intense media coverage of the original trial, which they say damaged Amanda Knox's chances of a fair hearing.
That media interest is intense: all the world's media are in Perugia again to cover this case.
There have been books, a couple of films in the pipeline (one with Colin Firth), all of which, say Amanda Knox's lawyers, have portrayed their client in a bad light, depicting her as almost a "devil woman".
Instead, the defence are hoping to convince the appeal judges to see what they say is the other side of Amanda Knox - a calm, non-violent woman.
Can she and Sollecito win their freedom back? Yes, if the defence compile a compelling case and effectively undermine the evidence put at the original trial.
But the appeal judge and his panel of jurors will need much convincing.