Lack of ambulances for 7/7 bombings criticised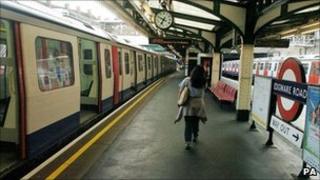 A paramedic who saved the life of the most seriously injured survivor of the 7/7 attacks has criticised the lack of ambulances sent to the bomb sites.
Graeme Baker told an inquest he was frustrated to learn some colleagues stationed nearby were doing nothing.
Mr Baker treated passenger Danny Biddle, who was seriously injured by the blast at Edgware Road Tube station.
The inquests are into the deaths of 52 people killed by suicide bombers on three Tube trains and a bus in 2005.
Mr Baker was the first paramedic to arrive at the scene after the bombing and immediately requested eight more ambulances, the inquest heard.
But the hearing was told that help was slow in arriving and available crews at neighbouring ambulance stations in Willesden and Park Royal were not sent at all.
Mr Baker said: "I appreciate for control there were four major incidents going on at the same time, it was very difficult.
"But when you hear later that other stations just didn't attend or weren't doing anything, then it was quite frustrating.
"There were plenty of other LAS [London Ambulance Service] resources around that weren't sent to the incident and they could have been."
Feedback form
During the inquest, Mr Baker also voiced concerns about the lack of radios that worked underground in 2005, sufficiently strong painkillers and intravenous fluids suitable for trauma patients.
The bomb plot ringleader Mohammed Sidique Khan killed himself and six others when he detonated his homemade rucksack bomb on a westbound Circle line train at Edgware Road station.
Mr Baker was on standby at the time at St John's Wood ambulance station, half a mile away.
On arrival at the station he came across Mr Biddle, who had been standing near Sidique Khan and lost both legs, his left eye and his spleen after being blown out of the carriage by the blast.
Mr Baker said: "If he didn't get any treatment he would have died, there's no doubt of that."
After the incident, Mr Baker filled in a feedback form. Responding to a question about whether he felt supported by senior LAS staff, he wrote: "We were down in the tunnel and saw only one team leader until went up with a patient for removal."
Mr Baker told the hearing: "The ambulance service has team leaders and, considering there's quite a few at our station, only one turned up and was in the tunnel with us. So I thought there could have been a few more."
Lack of lighting
The paramedic also highlighted the problems caused by the lack of radios that could transmit messages from the tunnel to the surface, writing: "No comms between crews - had to shout."
He explained: "Anything we needed, I had to request someone to go back and get it. I couldn't have just radioed to someone upstairs and said, 'bring this down'."
Meanwhile, Pc Geoffrey Potter, of British Transport Police, gave a witness statement to the inquest that voiced concerns about problems with lighting in the bombed train which left paramedics "working in the dark" to treat the wounded.
Summarising the witness statement, Hugo Keith QC, counsel to the inquests, said: "You raise a number of concerns about lighting.
"You say there was a real lack of torches, you say there was no lighting on the bombed train when you were there, you say that the carriages you were in were dark and paramedics were working in the dark."
Pc Potter also said there were concerns over the safety of the Tube tunnel after cracks appeared in the walls following the bomb explosion.
The inquests at the Royal Courts of Justice in London, expected to last five months, were adjourned until Wednesday.