Who is the real 'Foxy Knoxy'?
By Dan Bell
BBC News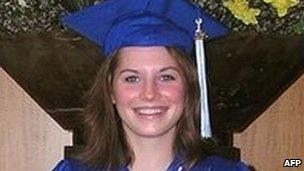 From the start of the highly publicised murder trial in 2009, Amanda Knox was the focus of intense media scrutiny. But who is she?
Knox, whose pretty face maintained its carefree smile throughout her trial, was the ideal female suspect for an Italian murder - "the face of an angel - but the eyes of a killer," as one (Italian) commentator described her.
From the images of her kissing her co-accused and erstwhile boyfriend, to her cartwheels in the police station, Knox's seemingly innocent insouciance contrasted gratingly with the gory crime and general preconceptions of what a murderer should look like.
The only explanation, according to prosecutors and feverish media coverage, was that Knox, now 23, was that most-loved of villains - the middle-class monster whose appearance hides a diabolical soul.
One lawyer was reported as accusing Knox of being "dirty inside and out" and described her as "half Maria Goretti and half demon".
The lawyer added: "Who is the real Amanda Knox? Is it the one we see before us here, simple water and soap, the angelic St Maria Goretti?"
"Or is she really a she-devil, a diabolical person focused on sex, drugs and alcohol, living life to the extreme and borderline - is this the Amanda Knox of 1 November 2007?"
Maria Goretti was a teenager made a saint by the Roman Catholic Church after she was murdered during an attempted rape.
As the trial unfolded the two Amanda Knoxes vied for acceptance: the hapless student championed by her family and defence lawyers; and the manipulative hedonist described by the prosecution.
And despite her plea in court - "I'm afraid of having the mask of a murderer forced on to my skin" - the latter always seemed to gain the upper hand.
Details soon began emerging of Amanda's private life - her "Foxy Knoxy" nickname, the drug-taking and claims she slept with several men after she arrived in Italy.
In letters from his jail cell, co-defendant Raffaele Sollecito wrote: "The Amanda I know... lives a carefree life."
"Her only thought is the pursuit of pleasure," he wrote to his father.
"But," he adds, "even the thought that she could be a killer is impossible for me."
Reporters descended on Knox's home city of Seattle in search of more details of her private life.
They discovered that the University of Washington student had been fined in 2007 for her role in a drunken party that police were called to.
A picture began to be painted of a "party girl" who abused drink and drugs and had an active sex life.
Tabloid interest intensified after it emerged that Knox had written a short story on a social networking site about a man who drugs and rapes a young girl.
In it, one character remarks: "A thing you have to know about chicks is that they don't know what they want."
This was not the daughter known to Knox's family - who term themselves "typically American".
They helped fund their daughter's year in Italy in order to further her Italian, German and creative writing studies.
And apart from the story on the social networking site, her page also portrays a very different young woman.
On it, she describes herself as a non-drinker and non-smoker. Her favourite pursuits include yoga and "backpacking long distances with people I know".
Among her favourite films are Shrek and The Full Monty and she likes listening to The Beatles and reading Harry Potter books.
It was partly a desire to emphasise this aspect of their daughter's character, and counter what they term her "misrepresentation", that led Knox's supporters in Seattle to set up a tribute website.
On it, family and friends write about the "joiner" who excelled at sports and school plays; a "smart, fun, affectionate and loyal" girl who bought sandwiches for homeless people and nursed sick friends.
They had been optimistic that she would be freed by the Italian courts.
According to alleged leaks of her prison diary, Knox was similarly determined to maintain her innocence - and may have been preparing to blame her ex-boyfriend.
She is reported to have written: "I think it is possible Raffaele went to Meredith's house, raped her, then killed her and then when he got home, while I was sleeping, he pressed my fingerprints on the knife."
But neither of their cases were helped by CCTV evidence that found its way into the Italian press, reportedly showing the pair buying sexy underwear together two days after Meredith's death.
The case was media gold from the start: a pretty young victim, brutally murdered in mysterious circumstances, whose murderers were both wealthy and attractive.
But what fascinated us most of all was the beautiful young murderess, and what was really going behind her smile.