Charles Dickens Museum in £2m Heritage Lottery Fund win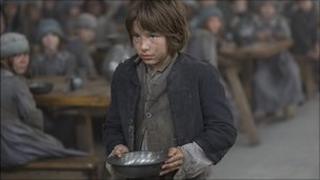 A museum based in the house where Charles Dickens penned Oliver Twist and The Pickwick Papers is to get a £2m Heritage Lottery Fund grant.
It will let the Charles Dickens Museum, in the townhouse in Bloomsbury, London, double exhibition space to hold 10,000 books, documents and manuscripts.
Dickens lived there from 1837 to 1839, writing from a second-floor study which still houses his desk.
The grant will also fund work to better recreate a 19th century atmosphere.
Manager Shannon Hermes said the funds were needed to ensure the house, converted into a museum in 1925, remained open.
Dame Jenny Abramsky, chairman of the Heritage Lottery Fund, described the museum as a "gem in the heart of London".
She said: "[The grant] will help radically transform not just the building itself but the way people experience and learn about this internationally-revered literary master."
'Deserves support'
Philip Pullman, author of the His Dark Materials trilogy, welcomed the grant
"Everyone who visits will benefit from a closer acquaintance with this most English, but most universal, of authors.
"It deserves the support of the nation."
Four other projects were given initial support by the Lottery Fund, a first step towards receiving a full grant.
House Mill, the largest remaining tidal mill in the world, in Bromley-by-Bow, east London, has been given preliminary approval for a £2.65 million grant, including an immediate £248,000 to develop restoration plans.
Castle Drogo, in Exeter, Devon, the last castle built in England, was given a first-round pass of £2.5m, while the Railway Preservation Society of Ireland was given initial support for a £1.8m grant, including £165,000 in development funding.
Dunfermline, the Scottish capital between the 11th and 15th centuries, was given initial support for a £2.8m grant, of which £24,000 was given immediately. A heritage and cultural centre is being planned in the town.