7/7 police officer breaks down in tears at inquests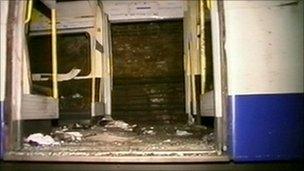 A police officer who attended Edgware Road station after the 7 July bombing broke down in tears at the inquests as he recalled the horror of the scene.
Pc David Hill climbed into the train and helped passengers give first aid to the injured, despite fearing there would be secondary devices.
He helped to save the life of David Gardner, who lost a leg in the blast.
The inquests into the deaths of the 52 people killed in the 2005 attacks are expected to take up to five months.
Pc Hill, a Metropolitan Police diplomatic protection officer, was in a car with two colleagues when they took it upon themselves to help at Edgware Road after hearing reports of an explosion on their radios.
He told the inquest he remembered arriving at the station and seeing lots of passengers coming out, when the risk of a secondary device occurred to him.
At this point he had to make the first of several pauses during his evidence and was reassured by the coroner, Lady Justice Hallett, not to be embarrassed, and to take his time.
When asked why he continued into the tunnel, Pc Hill replied, "because I was there".
He nearly broke down when he described coming across the body of one of the victims, 24-year-old Jennifer Nicholson.
"With hindsight it would have been nice to have stopped and done something to cover her, but I had to get in there," he said.
Once inside the bombed carriage he described how he and passengers helped another badly injured passenger, David Gardner, who was bleeding very heavily.
They tried to stem the blood with a makeshift bandage and tried to keep him conscious by talking to him until help arrived.
"He was still alive but I thought he wouldn't be for very long," he said.
Asked how long he waited for help, Pc Hill said: "It really did seem a long time but perhaps it wasn't.
"I was really concerned by the amount of time it was taking for help to be with us."
The police officer said after the incident he just changed his shirt and went back to work and completed his shift as normal.
Lady Justice Hallett told Pc Hill that he was "a brave and dedicated police officer".
She said: "I have no doubt you played a significant part in saving the life of Mr Gardner and possibly others.
"Don't feel in any way embarrassed about showing signs of distress. You would not be human if you did not feel distress at having to relive what you saw that day."
The officer who accompanied Pc Hill into the tunnel told the inquests of the "total devastation" of the bombed carriage.
"It looked as if a giant had punched a hole through the roof of the train, which was obviously where the site of the explosion was," he said.
"As I went into the carriage it was just a scene of total carnage. Thankfully, I wasn't actually in it for long so I didn't have too long to look around and see the total devastation. But what I did see was mind-numbing."
Meanwhile, the inquest heard how a former nurse working at Edgware Road assembled a team of cleaners and canteen staff to help the wounded while they waited for paramedics to arrive.
London Underground administrative assistant Anna Hare said in a witness statement that she put on a high-visibility jacket and helped passengers who had come up from the train.
"For at least 45 minutes there were no paramedics or equipment and the only supplies we had were clothes and water," she said.
Even when they did arrive, the paramedics were unable to offer much assistance with survivors on the station concourse because they needed to get down to the train to help the most seriously injured, Ms Hare added.
The inquest has heard that the Edgware Road bomb went off at 0850GMT but emergency services only reached the station at 0912GMT.
CLICKABLE Find out more about the victims of the Edgware Road bomb attack.
Related Internet Links
The BBC is not responsible for the content of external sites.