Top judge says internet 'could kill jury system'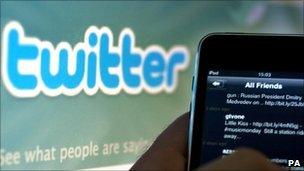 The jury system may not survive if it is undermined by social networking sites, England's top judge has said.
In a lecture published on Friday the Lord Chief Justice, Lord Judge, raised major concerns about the use of the internet by jurors.
He said: "If the jury system is to survive as the system for a fair trial... the misuse of the internet by jurors must stop."
Lord Judge said some jurors had used the internet to research a rape case.
Lord Judge, who is the most senior judge in England and Wales, said it was too easy for campaigners to bombard Twitter with messages in a bid to put pressure on jurors who might be looking at it.
He said: "We cannot stop people tweeting, but if jurors look at such material, the risks to the fairness of the trial will be very serious, and ultimately the openness of the trial process on which we all rely, would be damaged."
Lord Judge added: "We cannot accept that the use of the internet, or rather its misuse, should be acknowledged and treated as an ineradicable fact of life, or that a Nelsonian blind eye should be turned to it or the possibility that it is happening.
"If it is not addressed, the misuse of the internet represents a threat to the jury system which depends, and rightly depends, on evidence provided in court which the defendant can hear and if necessary challenge."
He said judges need to warn jurors in the strongest terms not to use the internet to research cases or to give details of cases they are deliberating on.
He wants the notice in jury rooms to be amended to include a warning that such research could amount to a contempt of court. He raised the prospect of sentencing jurors who use the internet for research.
Lord Judge even suggested sending text messages from court buildings should be banned.
The BBC's Legal Affairs Analyst, Clive Coleman, said: "This is the strongest and most detailed judicial consideration of the threat to the criminal justice system posed by jurors using modern technology. It raises major questions of how to police and stop internet use."