Family's tribute to 'cracking lad' killed in Helmand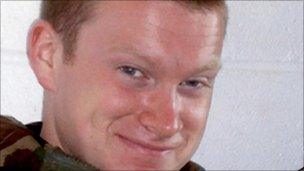 A soldier from 1st Battalion Irish Guards killed in Afghanistan earlier this week has been named.
Guardsman Christopher Davies, 22, from St Helens, Merseyside, was shot in an ambush while patrolling in the Nahr-e-Saraj district of Helmand Province.
His younger brother, Guardsman John Davies, 21, serves in the same battalion.
It brings the number of British servicemen and women killed in Afghanistan since 2001 to 345.
Guardsman Davies, who had been mentoring an Afghan National Army patrol, leaves behind a girlfriend, Emma, and a daughter, Lucy.
He was the 100th member of the armed forces to die this year while serving as part of the operation in Afghanistan.
Guardsman Davies' death came only days after Ranger Aaron McCormick, of the Royal Irish Regiment, was killed on Remembrance Sunday in a blast as he worked to clear roadside bombs.
Defence Secretary Dr Liam Fox said: "My thoughts are with the family and friends of Guardsman Christopher Davies, who was a popular soldier with a bright career ahead of him. His sacrifice will not be forgotten."
The Davies family paid tribute to him in a statement: "Christopher had always wanted to be in the Army ever since he was at school.
"He really enjoyed computer games and karaoke evenings with his cousins and friends. He loved singing and rock music, so you always knew when he was in the shower, and he was a real joker with a vivid imagination."
They said they were very proud of him and added: "One of the last things that he told us was that he wanted to specialise within the Army - he was very focused on his job and enjoyed the work, his comrades and the lifestyle."
They added: "Christopher was a cracking lad. His friends in the Army have told us that whenever they felt down he would cheer them up, often by singing.
"We will always love Christopher. He had an invincible personality and we will miss him so much. There is a big hole in our lives."
His commanding officer, Lieutenant Colonel Christopher Ghika, paid tribute to him: "Quiet and unassuming by nature, he had a deep military talent which shone out from his first day in the Battalion. He took time and care to be the perfect soldier."
The head teacher at his old school, De La Salle High in Eccleston, St Helens, said: "Chris was a very popular boy, who was extremely proud of his family and showed all the qualities of a natural leader."
Will Daunt added: "Therefore we were not surprised when he chose to begin a career in the Army. He will have made an outstanding soldier.
"The unselfish and brave way in which he has dedicated himself to his country makes him an example and a hero to us all."
Related Internet Links
The BBC is not responsible for the content of external sites.