Ministers plan to privatise search and rescue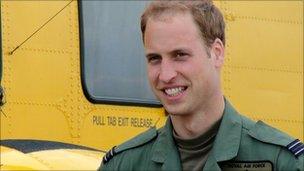 Plans are under way for the UK's search and rescue operations to be run by private companies, the BBC has learned.
The Department for Transport and the Ministry of Defence are understood to want civilians to take over the service from the RAF and local coastguards.
If agreed by the Treasury, search and rescue helicopters could be owned by private companies and crewed and piloted by civilians by 2013.
Prince William is currently employed as a search and rescue pilot.
BBC political correspondent Ross Hawkins said Labour first proposed effective privatisation in February.
The coalition government put the idea on hold over the summer, he said, but transport and defence ministers had now made a joint submission to the Treasury suggesting a private finance initiative (PFI) deal.
Our correspondent added that government sources had indicated the changes were very unlikely to affect Prince William's position.
He said contracts for qualified pilots in the prince's role usually lasted between 30 and 36 months. Any changes would be likely to come into force near the end of his contract, or after.
Related Internet Links
The BBC is not responsible for the content of external sites.